YouTube pranksters TrollStation claim credit for Honey G stage invasion on X Factor
The collective reportedly pretended to have disabilities to secure front-row seats.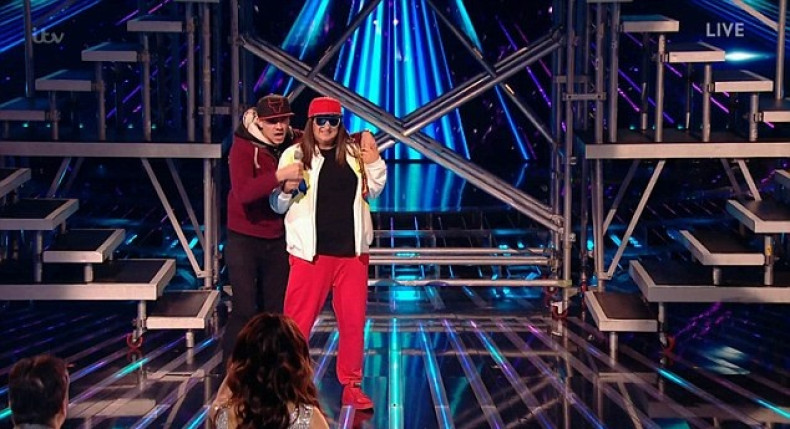 YouTube pranksters TrollStation have claimed responsibility for the X Factor stage invasion that left Honey G "shaken" last night (26 November).
Taking the stage during the live quarter-final show as the controversial star covered MC Hammer's U Can't Touch This, the YouTube collective left viewers bemused as they attempted to wrestle the microphone from the 35-year-old rapper.
An X Factor representative said of the incident: "There was a stage invasion by four men, with one further person in support. All five had been in the audience. They were spoken to by police and security and have now been removed from the studio."
TrollStation have subsequently taken credit for the stunt, posting footage on social media that shows other 'Station' members watching and laughing from the crowd. A worried looking Simon Cowell can also be seen jumping out of his judge's seat at the behest of a bodyguard.
The Sun report that the group, who have 800,000 subscribers and brand themselves as an "Online Hidden Camera Prank Show" pretended to have disabilities in order to secure the front-row seats.
TrollStation's other previous high-profile stunts include invading the White Hart Lane pitch multiple times during Tottenham Hotspur's Europa League run in 2014, as well as staging a fake art heist at London's National Portrait Gallery earlier this summer.
The dramatic scenes are the latest in a long line of events to disrupt Honey G's —real name Anna Gliford — appearance on the show. A former public school girl, she previously worked in recruitment before transforming herself into a self-styled hip-hop act from "North Weezy", her term for north west London. Earlier this month the star also admitted to previous drug addiction problems after suffering a sexual assault at university.
Honey G has divided critics and audiences alike, with Lily Allen alleging cultural appropriation and other artistes, including pop act Little Mix, hinting she was actually an actress drafted in to boost ratings for the ITV show.
Despite the controversy, Simon Cowell has retrospectively put his weight behind the borderline parody act, noting her increased popularity among viewers and voters on the talent contest.
Bookmakers have now predicted Honey G may well win the show and its coveted recording contract.