Video sharing website YouTube has taken down Rand Paul's presidential candidate announcement live stream soon after his team put the video up on 7 April, due to the copyright claim from Warner Music Group.
Kentucky State Senator Rand Paul set tongues wagging yesterday when he threw his hat into the ring, announcing that he intended to run for president in the 2016 US elections.
But it isn't that YouTube personally has a problem with Rand Paul – rather its automatic computer system Content ID does. Content ID allows the owners of copyrighted material to automatically censor any unlicensed use of the material that pops up on YouTube.
When a video is submitted to be uploaded to YouTube, Content ID automatically compares the video against a large database of copyrighted material, including music.
Rand Paul, a Republican, kicked off his presidential campaign announcement at the Stand with Rand rally in Louisville, Kentucky by walking onto the stage to the song Shuttin' Detroit Down by country music singer John Rich, who is managed by Warner Music.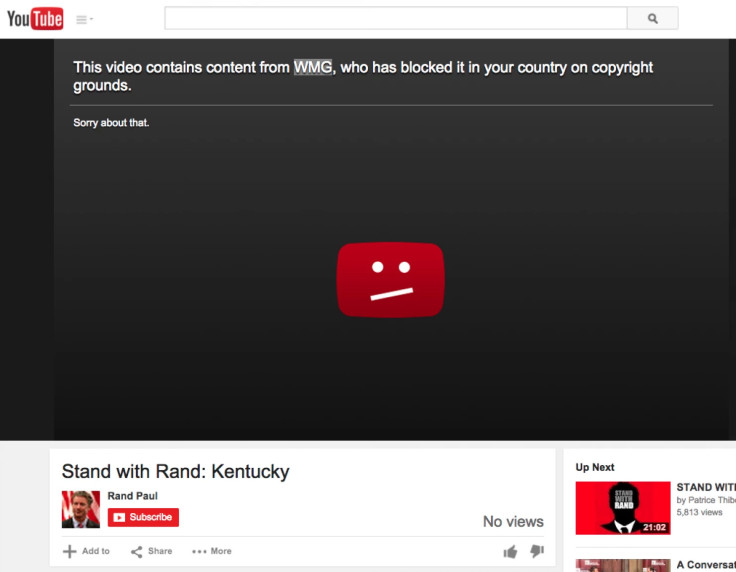 The song dates back to 2009 and laments about job losses in American industry at the height of the recession, but unfortunately, although Rand Paul's sentiments were aimed at making potential voters see that he cared, sadly no one watching at home on the web was able to see anything of the rally at all.
YouTube told The Washington Post: "YouTube's Content ID technology gives rights holders control of their content on YouTube. If a user believes their video was claimed in error, they can dispute the Content ID claim."
The video has been taken off the official YouTube account for Rand Paul's presidential campaign, and in its place 20 other videos have been uploaded that feature the senator talking about different key political issues in the US, including, quite aptly – the importance of internet freedom.