Yulin dog meat festival: Activists rescue 1,000 dogs from China slaughterhouses
Charity attempts to close compounds killing dogs to be eaten at Chinese festival
Activists have claimed to have rescued more than 1,000 dogs which were due to be killed and eaten during the controversial 10-day Yulin Dog Meat Festival in southern China. Marc Ching, along with the charity Animal and Hope Wellness Foundation, said the dogs due to be killed in the summer solstice event were rescued from slaughterhouses and compounds over the past year.
Around 10,000 dogs are expected to be slaughtered during the Yulin festival in to feed festival goers. Although eating dog meat is common practice in China with more than 10 million killed for human consumption every year, the festival receives criticism and protests over alleged cruel treatment of the animals before they are slaughtered.
Videos and photos emerge of dogs kept in small cages and there are claims the animals are subjected to torture, including being deprived of food and water. Some dogs are also seen with collars around their necks suggesting that they may be pets which were stolen off the street.
In a video posted to the Animal and Hope Wellness Foundation Facebook page, Ching can be seen taking the agitated animals from what is believed to be one of six slaughterhouses he has rescued dogs from.
He said: "A thousand breaths that would die here in the dark. A thousand lives that would bleed like blood left there upon ground. These dogs, they are brothers. They are sisters. They are fathers and mothers. They are children. They deserve a chance. All life deserves chance."
Speaking to LA Weekly, he added: "I want the people in China to be able to see, change is possible. People are meeting from all over the world, and even within China, to come help us."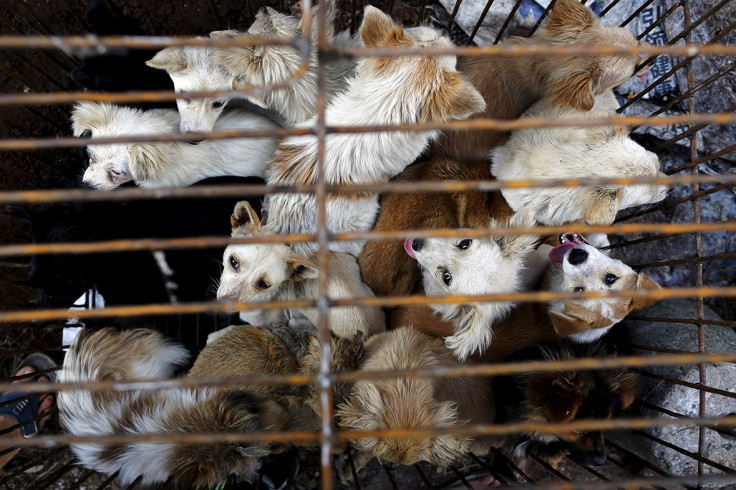 Yang Yuhua, another animal rights activist from the central city of Chongqing who helped with the rescue, told CBS News: "We came to Yulin to tell people here dogs are our friends. They should not kill dogs in such a cruel way and many of the dogs they killed are pet dogs. Dogs are man's best, the most loyal friend. How could we eat our friends? You tell me."
A second activist group, the Humane Society International (HIS), has also said it had begun rescuing dogs ahead of the festival, which begun on 21 June. The group say it rescued 20 dogs from a slaughterhouse on the outskirts of Yulin and has since been transported them to a shelter for veterinary treatment for eye infections, skin diseases and lacerations.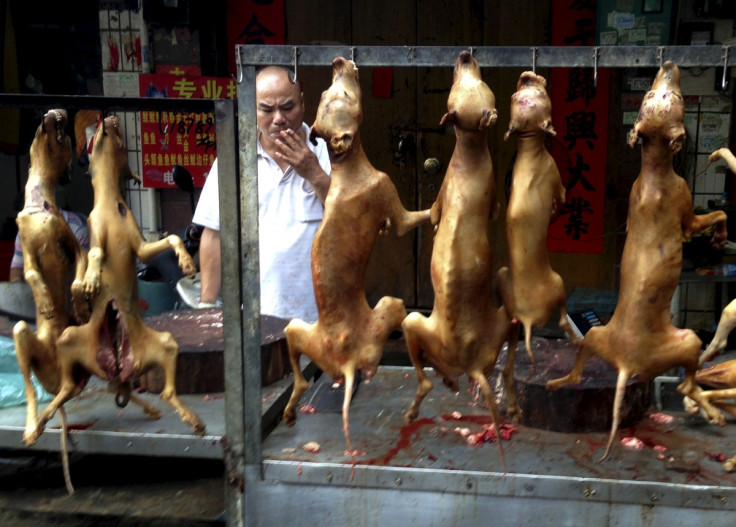 Adam Parascandola, HSI's director of animal protection and crisis response, said from the rescue scene: "In the early hours of the morning, we went to the live dog market that sits outside a slaughterhouse. It was heartbreaking to see the dogs crammed into tiny cages and panting in the heat.
"One lone mangy dog in a cage by himself gave a small tail wag when I spoke to him. It's amazing that he was still so trusting after so much suffering. Luckily we were able to rescue him and 19 other dogs. We gave them water, which most lapped frantically, and their tails wagged as we talked to them. I'm so relieved we were able to get these dogs out, and that soon they will know the love and comfort all animals should enjoy."
© Copyright IBTimes 2023. All rights reserved.