Indian Cricket Star Yuvraj Singh Returns after Cancer Treatment in US [PHOTOS]
Indian cricket fans across the country gave star all-rounder Yuvraj Singh a hero's welcome, on his return from the United States, where he has completed three cycles of chemotherapy for a rare germ cell cancer of the lungs.
The 31 year old cricketer was received at New Delhi's Indira Gandhi International Airport by his mother, Shabnam.
Yubraj's head, which went bald because of the treatment, was covered with a red sports cap and he was wearing a black jacket teamed with a red t-shirt and khaki pants. The left-handed player made his way through an army of fans and media personnel, who had come to receive him.
He had left for the treatment in January but remained active on Twitter, often updating his status with medical reports and photographs of his days there.
His homecoming tweet: "finally the day has come ! i am going home tomorrow ! cant wait , excited to see my friends and family ..see you india!! mera bharat mahan!"
Meanwhile, Yuvraj received support from an unexpected quarter.
American cycling legend, multiple Tour de France winner and fellow cancer survivor Lance Armstrong sent him a tweet, telling him to keep moving forward.
"Hi Yuvi, I am Lance Armstrong and welcome home. Man you have got one big following, I have heard about you every hour of every day since you have been diagnosed. We are pulling for you, so glad you are healthy now. Have a great life, don't look back, live strong buddy," the 40 year old American wrote.
Yuvraj, after reaching his residence, addressed the media, saying he was happy to be back and was recovering well. He added that he would announce future plans and details about the treatment he underwent at a press conference on Wednesday.
"I am very happy that he's back. He will rest for at least 10-15 days before he starts training... He is absolutely fine. He will meet the doctors after three months," Yuvraj's mother said.
Finally, the fan club for the player's Indian Premier League (IPL) side - Pune Warriors - tweeted: "Warrior Yuvraj Singh (@YUVSTRONG12 ) is back in India. Welcome back Yuvi."
Yuvraj Singh was the Man of the Tournament from last year's World Cup but has been out of action since November when he played a Test against the West Indies.
Check out photographs of Yuvraj Singh's treatment days in the US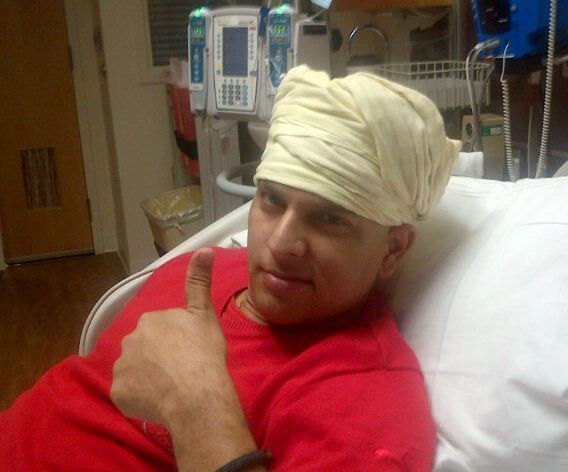 © Copyright IBTimes 2023. All rights reserved.