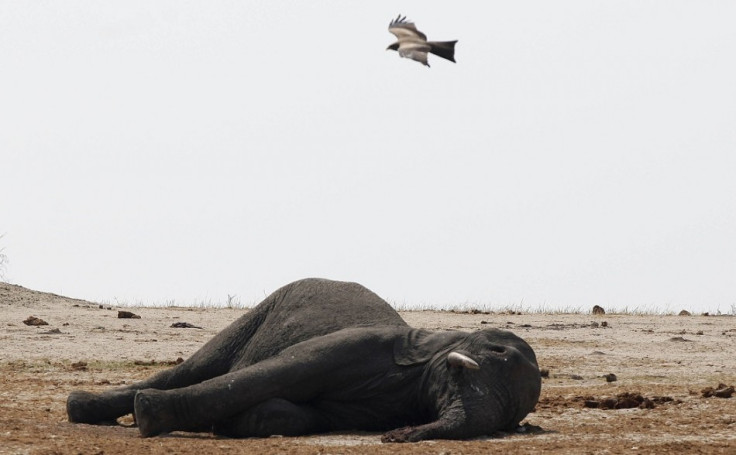 The corpses of 26 elephants have been discovered at two locations in Zimbabwe's Hwange National Park, officials have said. The Bhejani Trust and the National Parks and Wildlife Management Authority said that the large mammals perished at the hands of poachers who had poisoned the elephants and taken their tusks, taking the total tally of deaths for their tusks in the past month to 40.
However, 14 tusks were recovered which could be interpreted as a sign that the poachers panicked, according to Trevor Lane, founder of Bhejani Trust. He told the Associated Press: "The poachers were probably disturbed by rangers on patrol, which is why some of the tusks were recovered. Cyanide poisoning is becoming a huge problem here and we are struggling to contain it."
No arrests have been made, but investigations are under way. Park rangers have so far found a kilogramme of cyanide and have upped protection of animals.
It was reported during the week beginning 5 October that 14 elephants had been killed by the same method in three different instances. This prompted the country's water and climate minister Oppah Muchinguri to place the blame of the increased poaching at the feet of the US's policy, which has banned Zimbabwean elephant sport hunting.
She said that the money garnered from hunting could be used to better protect the elephants. Speaking to the Guardian, Muchinguri said: "All this poaching is because of American policies, they are banning sport hunting. An elephant would cost $120,000 (£78,000) in sport hunting but a tourist pays only $10 to view the same elephant."
Hwange National Park hit international headlines in August 2015 after Cecil the lion, a much-loved tourist attraction, was lured from the park then shot dead by US dentist Walter Palmer.