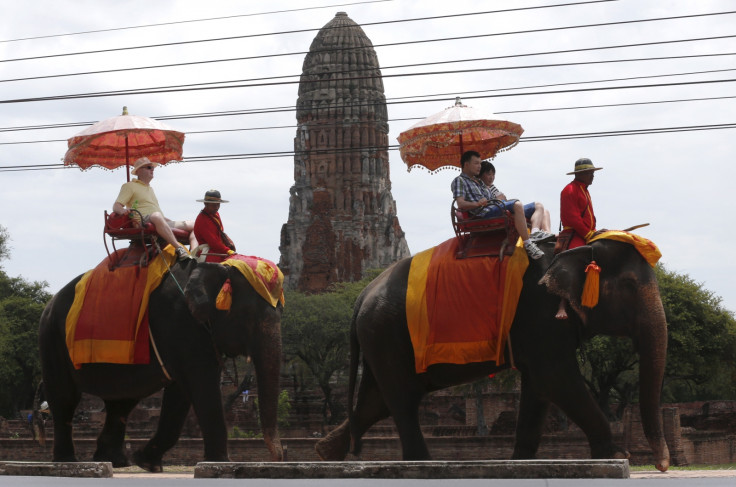 Thomas Cook is allegedly refusing to stop promoting animal abuse by offering holiday packages that include elephant rides, an animal NGO has claimed. World Animal Protection said it had a "dossier of evidence" to prove its claims and urged the travel agent to follow the steps of 63 other tour companies worldwide that stopped selling similar packages.
According to the NGO, elephants used in the tourism industry in places such as Thailand and India are subjugated to both physical and mental torture until the animals' spirit are broken so that they allow human beings to ride on their neck, something they would not normally do.
Kate Nustedt, director of Wildlife at World Animal Protection, told IBTimes UK: "Baby elephants are taken from their mother and put through a barbaric process. They are kept in very confined spaces, often chained up. They are starved and repeatedly beaten with tools that have a sharp pointy head.
"This happens at least once a week until finally they submit and allow their trainer to sit on their neck, and that's when their spirit is broken. From there, it's just a repeated cycle of abuse." Nustedt said World Animal Protection repeatedly contacted Thomas Cook to discuss the issue but has not received a response from some of its offices.
"We know for a fact that within northern Europe, agencies stopped selling them and that's fantastic, but in the rest of Thomas Cook Global, we had no response after repeated attempts to contact them. We know for a fact they are selling these tours," Nustedt said. She added that the NGO managed to speak with Thomas Cook Group's head of corporate social responsibility (CSR), who "did not deny offering elephant rides and shows".
The travel agency has denied the allegations made by the animal charity (see box below for the statement). The company added that it previously sold "only a very limited number of excursions involving elephants with selected partners". However, World Animal Protection said the travel agency's claim is "completely fabricated" (see box below for the statement).
Among the evidence, the animal charity said Thomas Cook did not remove images of elephants being ridden by tourists from its websites. The NGO also warned the trend of elephant rides is also spreading across south Africa. Nustedt said: "If the travel industry doesn't do something about it now, it's going to get worse and worse. It will get to a point where we are going to have only elephants in captivity rather than in the wild where they belong."