Zimbabwe: Former Minister David Coltart warns of violence if protests go ahead despite police ban
Exclusive: Politician's warning comes as police issue new order extending protest ban for one month.
Zimbabwe's former Education minister, and human rights lawyer, David Coltart has warned of a potential "increasingly hostile response from President Robert Mugabe's regime", including the use of the military and police to prevent an upcoming demonstration.
Last week, the High Court decided to overturn a two-week ban issued by Police officer commanding Harare central district Chief Superintendent Newbert Saunyama on demonstrations in the capital Harare. The same police official, however, issued a new banning order extending the ban for a period of a month.
The National Electoral Reform Agenda (Nera), an amalgamation of political parties focused on demanding changes ahead of the 2018 general elections, filed a legal challenge to nullify the ban.
The former opposition MP described the new banning order as "a disingenuous, cynical measure taken by the state and by the police" which will necessitate a further court application being bought by Nera to have this new banning order set aside.
'Demonstration will carry on in spite of ban'
In a statement published on 13 September, Nera confirmed that it will carry out further protests on 17 September in spite of the ban, highlighting Section 59 of the Constitution relative to Zimbabweans' right to present a petition to the government regarding the need for electoral reform.
"The fresh banning order has been issued to circumvent the High Court and to prevent this demonstration from taking place," Coltart said in an exclusive interview with IBTimes UK, highlighting police's argument that, because it is a new order, it is not subject to the High Court order and declared the original ban illegal. "Nera will do it again on Saturday irrespective of any banning order, irrespective of what the high court says about the ban."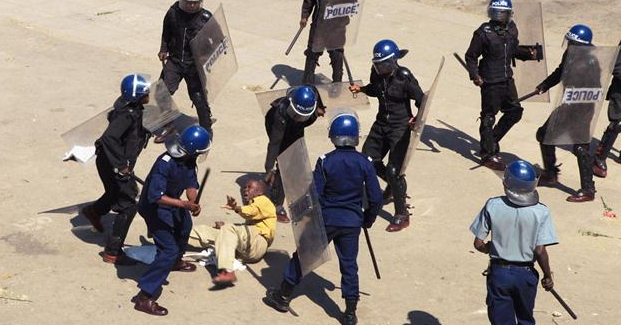 Pictures have emerged of Zimbabwe protesters calling on President Robert Mugabe to step down beaten by riot police in Harare on 17 August
Twitter
Highlighting how he believes that 92-year-old Mugabe "is feeling increasingly cornered" by the mushrooming variety of civic organisations asking for him to stand down, Coltart said he feared a regain in heavy-handed tactics to quash opposition.
Given Mugabe's "enough is enough" recent comments and past allegations that Zanu-PF had used legal and extra-legal means to crush those who oppose Mugabe, Coltart said he expected that, if Nera demonstrates its determination to have the demonstration on Saturday, "we may see an increasingly hostile response from the regime, including the use of the military and police to prevent the demonstration."
He explained: "We do know the history of this party and it is one that has been responsible for a genocide in the past and it is increasingly cornered. They said it – that they don't care what the international community and unfortunately the Southern African Development Community (SADC) has largely turned a blind eye on the regime to respect its own Constitution."
Police ban hearing in open court
The High Court application filed by Nera, Democratic Restoration Assembly (Dare), Harare resident, Standrick Zvorwadza and the Combined Harare Residents' Association (CHRA), seeking the nullification of the ban will be heard in an open court on Wednesday (14 September).
The outcome of the hearing "is dependent on the judiciary", which Mugabe has already threatened, according to Coltart.
"It is dependent on he judge presiding over this matter – who is to be commended for stating that that initial ban was illegal but should have said it was unconstitutional as soon as she heard the police had issued it," he said.
"Despite the clear reading of the Constitution, it does depend on its interpretation by the judiciary which in the past has either been cowered by Zanu-PF or which has been completely subverted by Zanu-PF. We just don't know – we remain uncertain about what action the judiciary will take".
While lawyer Tendai Biti, who filed the legal challenge, said the new ban was shocking, Zanu-PF has supported the ban following violent clashes between police and anti-government protesters last month.