Social movements across Zimbabwe have welcome the High Court's decision to overturn a two-week ban by police on demonstrations in the capital Harare.
After almost four decades of quelled frustrations under President Robert Mugabe's iron-fisted rule, a flurry of citizen or civil activism movements have been rising and spreading in the South African nation, and are calling for much yearned social, political and economic change – areas where they believe standard opposition politics have not delivered as hoped.
On Wednesday (7 September) judges of Zimbabwe's High Court lifted an "unconstitutional" ban by police on political demonstrations carried out by opposition parties and pro-democracy groups in the country.
The decision came just days after President Robert Mugabe accused the judiciary of "recklessness" for allowing the demonstrations that turned violent at times.
One of the peaceful campaigns, known asTajamuka/Sesjikile, is among a number of opposition groups that were seeking to challenge the constitutionality of the ban in the nation's High Court.
"What is shocking is that Mugabe attacked the judiciary. But despite his threats, the judiciary has shown it is still independent," a member of Tajamuka campaign, Silvanos Bhanditi Mudzvova, told IBTimes UK following the High Court's decision.
"We are very glad and excited about the court's decision because we cannot have a localised state of emergency imposed by police officers. It has never happened before and it is shocking that police would decide to become the constitution of this country."
Exclusively speaking IBTimes UK from Harare, Mudzvova added: "We are geared up to clearly express our democratic rights – our right to make sure people understand what is happening in this country. It means we are actually going to be benefiting quite a lot from the court's decision. The ban had demoralised quite a lot of guys, there were arrests at random, but now the court had given us the go-ahead."
Tajamuka is planning demonstrations outside the High Court in show of solidarity with activists who are being sentenced in court on Thursday (8 September), Mudzvova confirmed.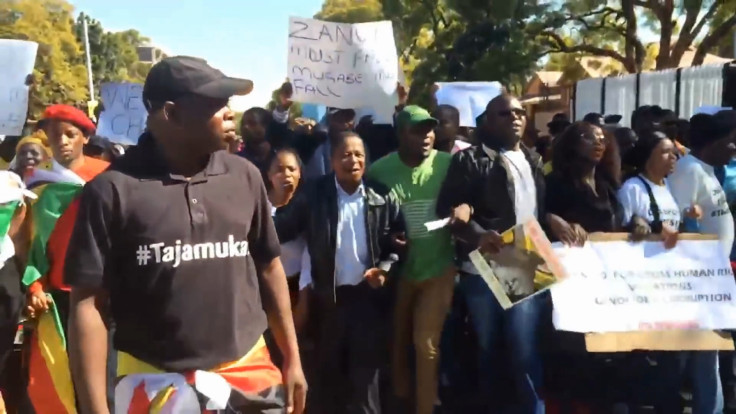 Tendai Biti: 'This constitution is new so we are testing it'
Brought by activists, the legal challenge was filed by lawyer and former Zimbabwean finance minister, Tendai Biti, who has been lauded by campaigners for ensuring permission for anti-government protests.
Speaking to IBTimes UK from the capital, Biti explained: "It's an important case in that it (was) assessing the right of citizens to gather to protest, to march and to petition, which is a right given in the constitution, specifically in a number of key provisions – Sections 58, 59, 61, 62, 66 and 67."
He added: "This constitution is new so we are testing it. So what we are now doing is to try and force the constitution and laws to be harmonised. The public order for security is a serious infraction on the right of citizens to organise themselves and to march and protest against the government."
"The court argument (is) consistent with what the constitution says – that people have rights, right to demonstrate, right of freedom of movement and right to adhere to political causes to challenge the government," the lawyer said in an exclusive interview.
Judge Priscilla Chigumba said on 7 September that the official police order issued a week ago was unlawful, "invalid" and violated citizens' rights.