Zimbabwean social media movement Tajamuka has vowed to return to the streets in spite of a two-week ban by police on political demonstrations carried out by opposition parties and pro-democracy groups in the country.
After almost four decades of quelled frustrations under President Robert Mugabe's iron-fisted rule, a flurry of citizen or civil activism movements have been rising and spreading in the South African nation, and are calling for much yearned social, political and economic change – areas where they believe standard opposition politics have not delivered as hoped.
One of these peaceful campaigns, known as Tajamuka/Sesjikile, is among a number of opposition groups that are seeking to challenge the constitutionality of the government's ban in the nation's High Court.
The first hearing on Monday (5 September) comes four days after the ban came into force following weeks of demonstrations against Mugabe's regime and growing frustrations over the nation's ailing economy. (Read more: Opposition 'ready to take over' from ageing Mugabe as protests turns violent in Harare)
Tajamuka: 'People will not conform to a the ban'
"In our view, if the judgement goes against us, that is a political political scheme done by (ruling party) Zanu-PF in an attempt to ensure that we don't enjoy the rights enshrined in the new Constitution, including section 59 that states it is in our right to demonstrate against the government," Hardlife Mudzinga, who sits on Tajamuka's Finance Committee, exclusively told IBTimes UK ahead of the legal challenge.
"Whether it comes out in our favour or not, people will not do that (stop demonstrating) because issues that are affecting Zimbabweans on a daily basis are not something that are solely confined to matters of law. The tenacity and motivation on the ground goes beyond a legal document."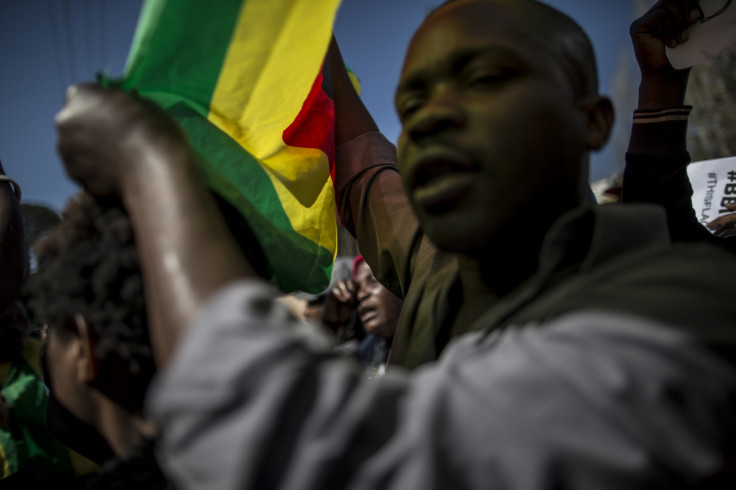 Highlighting Tajamuka's "seriousness", Mudzinga explained that "any scheme ordered by the government to stop the demands of the people would not progress. The only solution to the actions of the citizens on the ground is to ensure that our demands are answered," he added. "This week, demonstrations will take place, whether the ban is challenge in High Court or not. People will not conform to that."
The National Vendors Union of Zimbabwe (NAVUZ) is planning a demonstration on 5 September, and Tajamuka will be supporting a protest organised by other social movements on Wednesday (7 September).
Challenge 'to be heard in open court'
Lawyer and opposition People's Democratic Party leader, Tendai Biti, who filed the legal challenge to the ban, on Monday morning confirmed the applicants had had a case management meeting before High Court judge Justice Priscilla Chigumba, who postponed the case until later this week.
In a Tweet, Biti, who has accused Mugabe of violating the constitution, said that the "matter (is) now to be heard in open court on Wed Sept (7 September at 09:30am). Parties to file Heads of Argument before (that day)."
Zimbabwe's police imposed the ban at the end of last week, a few days after judges gave permission for anti-government protests, which ended with violent clashes with police.
President Robert Mugabe, meanwhile, later accused the judiciary of "recklessness" for allowing the demonstrations.