As the economic crisis further cripples the nation, Zimbabwe's former minister of finance has warned that civilians are dying of preventable diseases as health facilities are now longer able to treat them, carry out surgery or dispense medication.
Amid an ailing economy compounding a failing public health system, a state hospital in the capital, Harare, was this week forced to suspend routine surgery after running out of painkillers. Against a backdrop of a cash-strapped public health system, civil servant salaries and government pensions also still have not been paid for the month of August (read box).
Zimbabwe in recession
Budget allocation failures come in the context of massive structural challenges arresting the Zimbabwean economy:
- Output and production have dropped and the estimated growth rate in 2016 is -3.8%, down from -1.1% in 2015
- Weak commodity prices and severe drought have weighed heavily on a now unsustainable current account deficit - and current budget deficit of 12% of GDP
- An uncontrollable wage and pensions bill has prevented the government from paying both regularly and on time since May 2016
- Low productivity and/or non-performance of the agriculture sector, now means at least 4.3m people are being fed by the international community, and the state is almost totally dependent on imports
Tendai Biti, current opposition leader who served as finance minister under the opposition MDC-T party in the coalition government with the President Robert Mugabe's ruling Zanu-PF from 2009 to 2013, warned health services delivery is collapsing in Zimbabwe.
Dying poor: 'mortality rates are collapsing'
Poverty levels have reached alarming proportions – an authoritative study carried out by Zimstat, the World Bank and the United Nations Children's Fund (UNICEF) at the end of 2015 found that in some areas of the country, as many as 96% of people were living on less than $1 a day.
While the middle-class and wealthy can afford costly private hospitals and clinics, the poor majority, who have no alternative but to use these decaying facilities, die.
"It's common cause that over 72% of the population live below the national poverty line (living on less than US$1.25 per day), so obviously they cannot afford the cost of utilities including health services,"Biti told IBTimes UK in an exclusive interview.
"They (the poor) die, the mortality rates are collapsing, just like they did during the crisis in 2008 when they fell to 34 years old for men, and 31 for women. We are heading straight towards that."
Speaking from Harare, the politician added: "People are dying, of preventable and non-communicable diseases such as hyper-tension, blood pressure, diabetes. This regime is committing a soft genocide against the people of Zimbabwe who can't afford medical services, and who result to non-traditional medical treatments," he explained, highlight the rise in people turning to traditional medicine and the mushrooming of so-called prophets.
Whilst drugs such as pethidine and injectable morphine are expensive, the state has abandoned the cash budgeting principle, as outlined by current finance minister, Patrick Chinamasa, during his mid-term budget review on 8 September.
"It's clear that the financial crisis and cash crunch is escalating, rights across the board. Of course, a lot of this is down to the government totally warping budgetary priorities: in the last three weeks, police was given new equipment, state-of-the-art anti-riot vehicles, Robert Mugabe flew off to Dubai using an Air Zimbabwe Boeing 767 for four days on private business. There are these inconsistencies," Zimbabwe's former Education minister, and human rights lawyer, David Coltart, exclusively told IBTimes UK over the phone from Bulawayo.
"Whilst drugs are expensive, the state won't cut back on military equipment and vehicles and transfer that money to medication. If it did it could actually go a long way.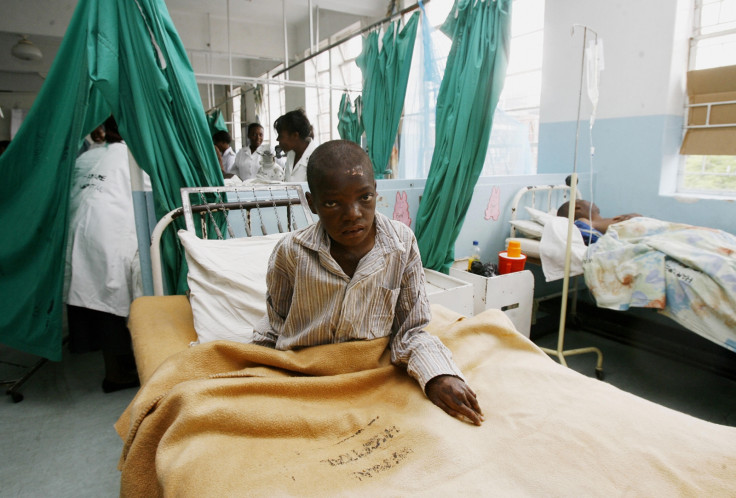 Regime has been 'warping financial priorities'
Zanu-PF have been in control one way or the other of Zimbabwe for 36 years, and the regime has been accused of warping financial priorities. In the 1980s, for instance, the education sector and the health sector were better funded, but former minister Coltart says most of that budget came from donor money – "it was earmarked".
Referring to Biti's time in the Ministry of Finance and Economic Development, Coltart described a disconnect between theoretical budget, which is presented to Cabinet, and the actual amount dispersed. "Even during the inclusive government, even under competent Ministers of Finance such as Tendai Biti, the Office of the President and Defence would get complete allocation whereas Ministries like Education and Health would only get a fraction of the theoretical budget," he explained.
When asked to comment, Biti explained his ministry tried to maintain the Maputo target of allocating at least 15% of annual budget to improve the health sector. In 2003, the African Union agreed upon the so-called Maputo Declaration, which aims included increased food security and economic development and growth.
"But in the context where the budget and income were zero, we implemented specifically targeted medical policies in which we would target, every month from February 2009, hospital facilities. We started with Harare hospital and gave them $4m, then went to Mpilo hospital (in Bulawayo), then back to Parirenyatwa Hospital, etc... By the end of the year, we had sorted out all the referenced hospitals and all the provincial hospitals – a strategy that actually worked," he outlined.
In last year's theoretical budget – the only public document Zimbabweans have access to – Home Affairs (9.9% of total budget) and Defence (8.9%) had priority over Education (5.7%) and Health and Child Care (8.3%). However, while the state's actual allocations are unknown, UNICEF stated that, as a share of GDP, the real Health & Child Care budget is 0.7 percentage points lower than the Sub Saharan Africa average of 3%.
"Unfortunately, with the reversal of the finance minister's proposals for cost cutting by Cabinet last week, the crunch is just going to escalate even further. In his speech he said that around 97% of monthly revenues are going to salaries, so where they think they are going to get money (...) is quite beyond me," Coltart said.
As the country slides further towards hyperinflation and issues such as chronic undernutrition remain relatively high, it seems inevitable that the government will have to appeal to international donors and health agencies to cover its failings.