Zimbabwe's government has threatened to crack down on social media activists it brands as "cyber-terrorists" as protest movement leaders continue to encourage users to vent their frustrations over the nation's faltering economy using the "safe" platforms.
In recent months, the nation of almost 16 million people has been rocked by a social movement that successfully managed to shut down the capital Harare in a series of protests against bad governance from President Robert Mugabe's regime.
The civilian-led demonstrations, a rarity in Zimbabwe where activists are routinely targeted by the authorities, was publicised with the hashtag #ThisFlag, and described by many as the most provocative movement in Zimbabwe's recent history.
After leaving the country for his safety – first to neighbouring South Africa, then to the United States – the movement's architect, Pastor Evan Mawarire was arrested last month for his internet activism and admitted to having received death threats.
Government: 'Cyber-terrorists' trying to topple Mugabe 'like in the Arab countries'
On Tuesday (16 August), information minister Christopher Mushohwe warned that online activities are being monitored and that the government would deal with activists working with "diaspora cyber-terrorists".
"They must be warned that the long arm of the law is encircling them," he told press in Harare.
"There are people who are now in trouble because they thought Mawarire was their leader. Where is Mawarire now?" the minister said, in reference to #ThisFlag's figurehead's US stay.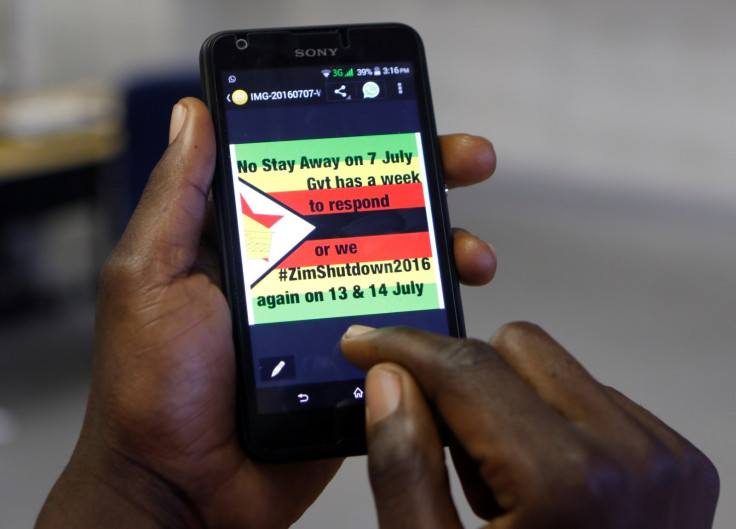 Mushohwe explained the government was "closely watching the activities of these subversive elements" who the government previously claimed are trying to topple Mugabe through protest "like in the Arab countries".
"Let Zimbabweans know, if it happened in Libya, if it happened in Iraq, if it is happening in Syria, it can happen anywhere, so let's not promote it," the minister said. "That's why you see most of the Libyans and the Syrians are dying every day in the Mediterranean Sea trying to go to Europe to look for peace which they had destroyed in their country. They once upon a time had peace like Zimbabwe."
Mugabe intensifies crackdown on social media activists
From the US, meanwhile, Mawarire has urged his compatriots to maintain the pressure on the government, which regime has recently cranked up its clampdown on hundreds of critics and has been arresting people who have allegedly insulted the president verbally or on social media networks.
In Zimbabwe, citizens can face charges of undermining the authority of, or insulting Mugabe under Section 33 (b) of Zimbabwe's Criminal Law (Codification and Reform) Act Chapter 9:23, which came into law in 2002.
What does the draft Computer crime and Cybercrime Bill say?
Faced with anti-government protests largely organized and mobilized via social media, the government in July announced it was drafting a law under its draft Computer crime and Cybercrime Bill.
Under Section 23 of the draft bill, social media users found guilty of "abusing" the use of the platforms could face five-year prison sentences.
The bill states: "A person, who intentionally without lawful excuse or justification or in excess of a lawful excuse or justification initiates any electronic communication, with the intent to coerce, intimidate, harass, or cause substantial emotional distress to a person, using a computer system to support severe, repeated, and hostile behaviour, commits an offence punishable, on conviction, by imprisonment for a period not exceeding five year, or a fine not exceeding level ten, or both."