Zimbabwe: Opposition leaders vow to end reign of Mugabe's Zanu-PF in historic show of unity
Joice Mujuru and Morgan Tsvangirai hope to challenge ageing President Mugabe in 2018 poll.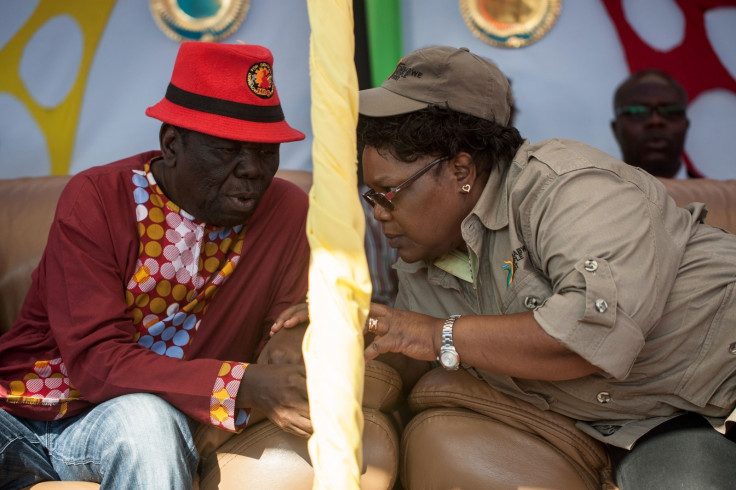 Leaders of Zimbabwe's opposition have united as they denounced ageing President Robert Mugabe's hold on power and called for citizens and political parties to join hands in ending the ruling Zanu-PF party's alleged misrule. In a push to unseat Mugabe, five parties recently came together to create the the Coalition of Democrats – dubbed Code - a coalition they hoped would challenge the the head of state and his ruling Zanu-PF party in the 2018 general elections.
Mugabe has ruled with an iron fist, sidelining his rivals through a combination of shrewd politics and force.
The nonagenarian has recently quashed any debate about his succession by stressing his intention to stand for re-election in 2018 when he is 94.
While opposition leaders Joice Mujuru of Zimbabwe People First (Zim-PF) and Morgan Tsvangirai, who heads the MDC-T party, were absent from the coalition, they appeared united on Saturday (13 August) when they led a mass rally in Gweru, about 220km southwest of the capital Harare.
'We need a collective consensus of all Zimbabweans'
Tsvangirai thanked Mujuru and war veterans for joining the MDC-T organised event in Gweru, where protesters marched across the city against state corruption and the country's economic collapse that has left government struggling to pay its workers, before Mujuru invited MDC-T supporters to her own rally in the city's Mkoba stadium.
"This is a heart-warming moment and I would want to congratulate Dr Mujuru and all the leadership said. "I know Mugabe is going to say a lot about today's event. He [Mugabe] is afraid of the people, demonstrations; he is even afraid of leading Zimbabwe."
Speaking to thousands of supporters, the political heavyweight added: "The reason we are here is because we need a collective consensus of all Zimbabweans to make sure that Mugabe listens to the voice of the people (...) I don't hate Mugabe, but I disagree with him that he gets to 92 and does not want to leave the throne."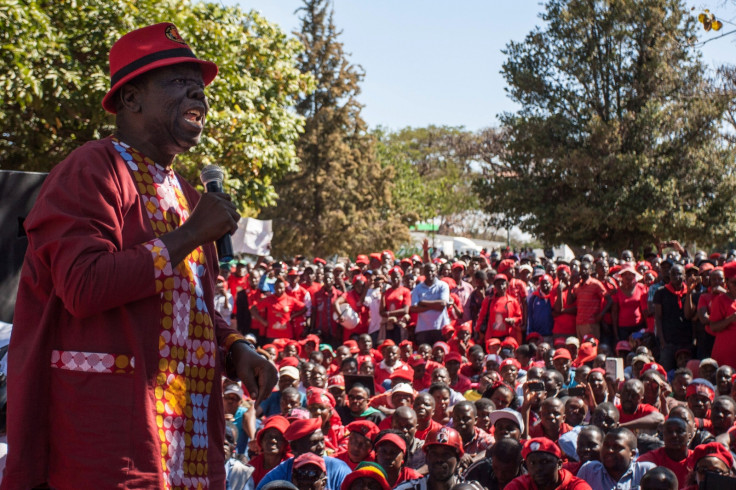 Zimbabwe's opposition party Movement for Democratic Change (MDC) leader Morgan Tsvangirai delivers a speech during a demonstration in Gweru, on August 13, 2016
ZINYANGE AUNTONY/AFP/Getty Images
2018 polls: 'Join hands for the sake of the majority'
Taking turns to call for unity among Zimbabweans, former vice president Mujuru also urged opposition parties and her war veteran followers to work together for a common purpose.
"Today is a historic day as MDC-T and Zimbabwe People First join hands to fight for the common issues affecting the citizens of this country," said Mujuru. She was sacked by Zanu-PF in 2014 after accusations emerged that she was plotting to kill the president – claims she has always denied.
"We want the people of Zimbabwe to work as one not to be divided. Today we found a way of working together to deal with issues affecting us," Mujuru said, referring to "bond notes, water, shortages of food, job losses closure of hospitals and unemployed graduates".
The leader warned: "If we continue to have mushrooming political parties, we give room for Zanu-PF to defeat us in elections. It is up to us to join hands for the sake of the majority."
'Zanu-PF will be already defeated even before polling day'
If faced by a united opposition, Mugabe could face a defeat, commentators believe.
Former MDC-T coordinator for Chimanimani, Pardon Maguta, said that only a "political rainbow coalition" would "stop even a political hurricane" and "finish off Zanu-PF".
"Next time Zimbabweans expect to see all the famous opposition leaders sharing the same stage and political pulpit. Who can resist a political line up that includes Mujuru, Tsvangirai, Tendai Biti, Welshman Ncube and Simba Makoni fighting in one corner?" Maguta explained.
Bitter power struggle within Zanu-PF
The malaise comes during a bitter political battle within Mugabe's ruling Zanu-PF, which has seen two rival factions, called the G40 and Team Lacoste, fight for control of the party.
The First Lady Grace Mugabe leads the G40, which is opposed to Vice-President Emmerson Mnangagwa's faction Team Lacoste, which is backed by the war veterans.
"That will be the most telling development in our lifetime. Zanu-PF will be already defeated even before polling day. The only thing President Robert Mugabe dreads at the moment is a coalition of opposition parties before the 2018 polls. He knows that his divided and faction-ridden party will not win against that."
Last week, top Zimbabwean war veterans from the Zimbabwe National Liberation War Veterans Association (ZNLWVA), which has supported the long-serving leader since he came to power in 1980, were purged from Zanu-PF party following a veterans' revolt against Mugabe's rule.
Following the purge, ZNLWVA leaders boycotted a speech by Mugabe on Monday 8 August to honour fighters of the country's independence war claiming they were "being persecuted continuously" - in a confirmation of the rupture in the relationship between Mugabe and the war veterans. (Read more: Zimbabwe veterans' full statement - Withdrawal of support for President Robert Mugabe).
© Copyright IBTimes 2023. All rights reserved.