Zimbabwe: President Robert Mugabe faces 'threat of split within armed forces', warns lawyer
Lawyer Alex Magaisa tells IBTimes UK the regime faces challenges with current military generals.
The commander of Zimbabwe's army has vowed his forces will stand by embattled President Robert Mugabe, but Africa's oldest head of state faces a real threat of split within the armed forces, a prominent lawyer has warned.
Last week, top Zimbabwean war veterans from the Zimbabwe National Liberation War Veterans Association (ZNLWVA), which has supported the long-serving leader since he came to power in 1980, were purged from Zimbabwe's ruling Zanu-PF party following a veterans' revolt against Mugabe's rule.
Following the purge, ZNLWVA leaders boycotted a speech by Mugabe on Monday (8 August) to honour fighters of the country's independence war claiming they were "being persecuted continuously" - in a confirmation of the rupture in the relationship between Mugabe and the war veterans (Read more: Zimbabwe veterans' full statement - Withdrawal of support for President Robert Mugabe).
The same day, General Constantine Chiwenga, the commander of Zimbabwe Defence forces (ZDF), insisted the army "stand(s) firm and unequivocally" behind Mugabe, and claimed that institutions can be threatened by manipulation of ideas "by the Fifth Column and its quislings".
'Challenges between Mugabe, current military generals and VP'
For Zimbabwean lawyer Alex Magaisa, Chiwenga's comments are of "great importance" as he highlighted that members of the security services have not openly condemned the war veterans.
"As a matter of fact General Chiwenga' statements suggest that he suspects the war veterans are being framed by what he refers to as the Fifth Column".
"By referring to the 'Fifth Column' , the vice president Emmerson Mnangagwa and General Chiwenga are not actually condemning the war veterans but are in fact suspecting and condemning another faction within Zanu-PF, the G40," Magaisa told IBTimes UK in an exclusive interview.
Bitter power struggle within Zanu-PF
The malaise comes during a bitter political battle within Mugabe's ruling Zanu-PF, which has seen two rival factions, called the G40 and Team Lacoste, fight for control of the party.
The First Lady Grace Mugabe leads the G40, which is opposed to Vice-President Emmerson Mnangagwa's faction Team Lacoste, which is backed by the war veterans.

Magaisa said he believes Mnangagwa and Chiwenga consider the Generation 40 (G40), a faction of Zanu-PF known to back the president's wife, Grace Mugabe, to be "a shadowy force, which is attributing these accusations to the war veterans and effectively framing them".
"The suspicion is also indicative of the broader relationship challenges between Mugabe and the current military generals as well as his own vice president," he added. Chiwenga, meanwhile, denied he was supporting another faction led by Mnangagwa within Zanu-PF, known as Team Lacoste.
Magaisa: 'Threat of a split in the armed forces'
Magaisa, a former adviser to ex-prime minister Morgan Tsvangirai, said that Mugabe's failings to directly address the issue of war veterans during his speech was indicative of the "sensitivities that he himself feels regarding this very important former ally, and he is trying very hard to not be seen to be flaming fires".
In making recent references to providing homes and building houses for soldiers as well as transport, Mugabe has shown his desire to provide trinkets to the serving military in order to continue retaining their support in the face of government failures to pay them their wages.
It is precisely these efforts to retain support within the armed forces that Magaisa believes betray the leader's fears of a split within the armed forces.
"There is a fear that the problems that he is having with the war veterans are also indicative of the problems that he may be facing from the current serving military," the lawyer explained. "Emmerson Mnangagwa would gain support should the serving military stop backing Mugabe. What we have seen over the past few weeks is that Emmerson has the support of the military - or at least they sympathise with him compared to the G40 - or Grace (Mugabe)".
In July, Zimbabwe's cash-strapped regime was forced to release a new pay schedule for civil servants - including soldiers - who the government failed to pay salaries for the second month running as the country faces a deepening economic crisis.
While there are currently 34,000 living war veterans in Zimbabwe, the ZDF boasts an estimated 30,000 active personnel and some 20,000 reserves, making it one of 16 most powerful armies in Africa, according to the Global Fire Power index.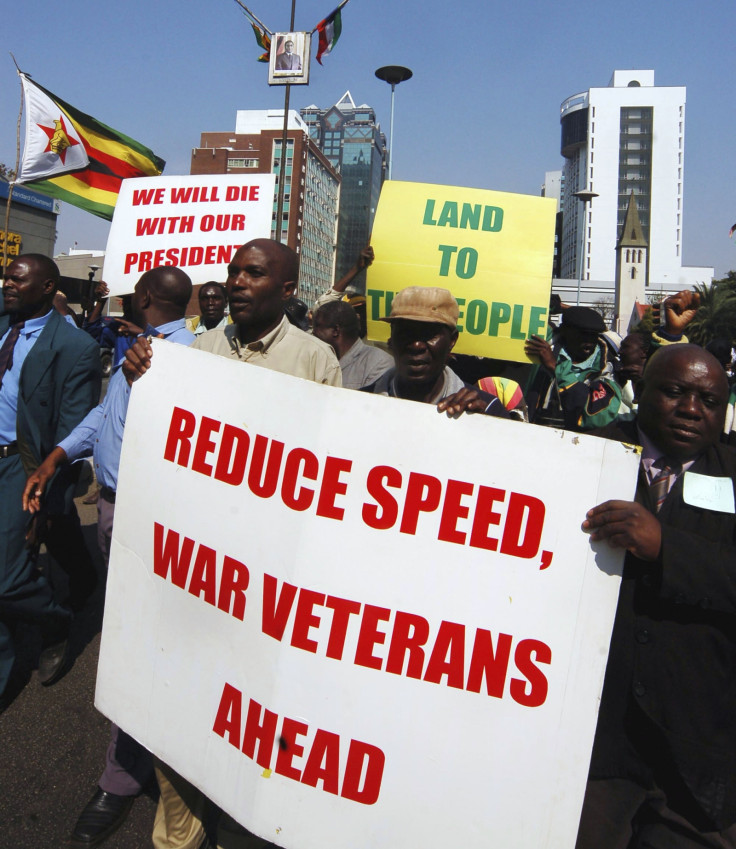 © Copyright IBTimes 2023. All rights reserved.