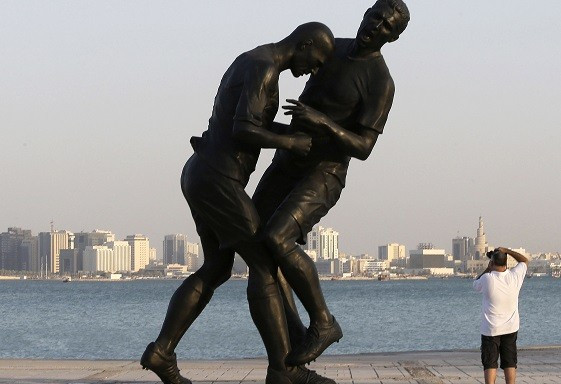 A bronze statue depicting the moment French footballer Zinedine Zidane headbutted defender Marco Materazzi in the 2006 World Cup final has been removed from Qatar following complaints.
The sculpture, by Algerian-born French artist Adel Abdessemed, has been taken down from Corniche in Doha just weeks after it was first installed.
The statue of the infamous headbutt received complaints from religious conservatives that it promoted violence and amounted to idolatry - the term for worshipping a person or an object as a god.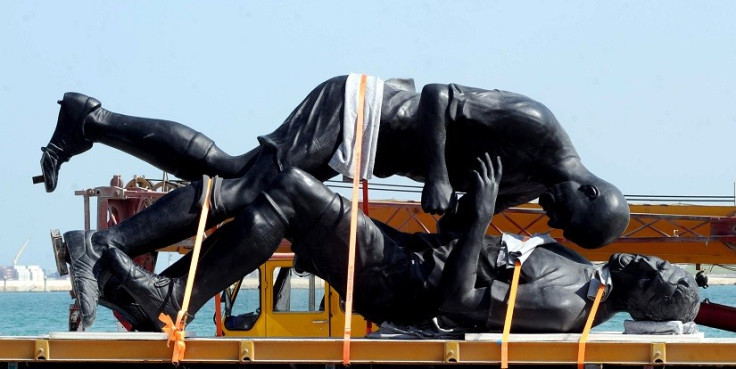 There has been outcry about the statue on social media since it arrived in Qatar on 3 October.
"Congratulations for having new idols," one twitter user wrote sarcastically using the Arabic hashtag "Zidane's statue in Qatar".
"It is sad that our youth see in this art and modernity. Our children do not differentiate between the right and the wrong, or the haram [prohibited] and the halal [permissible]," added another.
There was no official reason given as to why the statue - known as Coup de Tete or headbutt - was removed, but it has already been taken from the waterfront.
The five-metre (16.4-feet) tall sculpture was originally displayed at the Pompidou Centre in Paris but was bought by the Qatar Museum Authority.
It was originally planned to be a permanent fixture on the Corniche, but will now be shown alongside Abdessemed's other works that are on display in the Arab Museum of Modern Art.