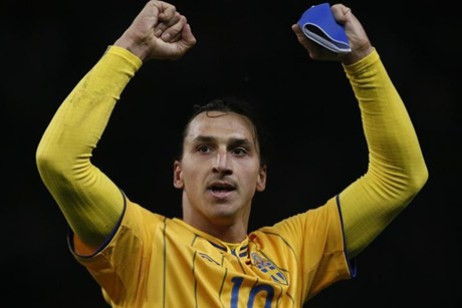 After a surprisingly exciting week of international friendlies, Zlatan Ibrahimovic showed up Steven Gerrard's 100th cap for England with a brilliant goal to seal a 4-2 win for Sweden over England, as the Liverpool man returned to Merseyside without a win for his country.
Ibrahimovic completed an almost technically perfect bicycle kick that will go down in history as one of the greatest goals, but whether it was better than the likes Maradona, Paul Gascoigne, John Barnes and Zinedine Zidane is questionable.
Meanwhile, back in the Premier League, the north London derby will no doubt be a fiesty encounter as Arsenal and Tottenham both fight for a place in the top four. Spurs boss Andre Villas-Boas has a few options for his starting line-up, with his strikers presenting a particularly difficult situation as he decides between starting two or one up front.
And for Arsenal, who were in history the better team than their cross-town rivals, the match will certinaly be worth a lot more than just three points for Arsene Wenger, who has suffered his worst start to the season with the club since taking over. The manager will no doubt be under increased pressure if he can't beat the fans' most hated club, and continues to flounder outside the top four.
Away from Arsenal and Tottenham and Liverpool take on Wigan, with Joe Allen needing to prove his worth for the side while they struggle to get into the top half of the table.
Manchester United and Manchester City will be looking to take three points from their matches against Norwich and Aston Villas respectively, with both Sir Alex Ferguson and Roberto Mancini looking for an improvement in defence as well as a repeat of their goalscoring prowess.