A 10-year-old autistic boy from Florida, John Benjamin Haygood, was on Wednesday (12 April) handcuffed and arrested at his elementary school for a battery incident that allegedly took place in late 2016. The boy's mother filmed the arrest on her phone as it happened.
The video shows the boy slouched in a chair with his hand over his eyes at the Okechobee Achievement Academy, Florida. A school resource officer can be seen standing over the boy as Luanne Haygood, the boy's mother, asks "Does he have the same rights as an adult?"
When the officer reaches to grab the boy, he says "I don't want to be touched. I don't want to be touched."
As his mother tries to get answers from the police, the crying and confused boy is led to the police vehicle. The boy can be heard shouting "I don't know what's going on, mama!"
In late 2016, the boy reportedly kicked and punched a paraprofessional educator at school, which left the teacher with scratches and marks, WPEC TV reported.
John was expelled from school and instructed to complete work from home.
On Wednesday, he returned to school for mandatory testing after being home-bound for months. A school resource officer recognised him and said he had an outstanding warrant against the boy for assault. The mother can be heard saying in the video that they were not aware of the warrant.
John reportedly spent the night in juvenile jail and was released the next day, according to his mother. He has a court hearing in May.
Speaking to CBS Miami, the mother said, "I was extremely angry."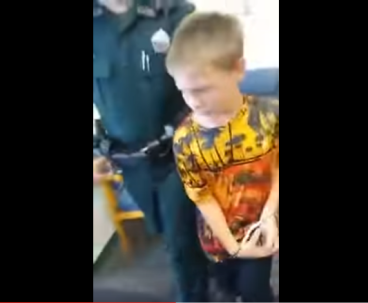 "I felt like this was a power play. I felt like this was a this is what you get. You can't do anything about it. We're going to arrest your son if he can't abide by the rules."
The sheriff's office said John was arrested for felony battery on a school board authority. They were not aware he had autism, the office added.
John's mother acknowledged her son's earlier troubled behaviour in school and said his conduct was a result of autism. She criticised the school for not having procedures in place to deal with children on the autistic spectrum.
"It's nationwide, and these children are not getting the services they are guaranteed under the Individuals with Disabilities Education Act," she said.
The Okeechobee School County District released a statement to local media saying they invite students to take Florida Standards assessment and that they "would not invite someone to one of our campuses for the sole purpose to arrest".