102-year-old wins battle to continue working at Australian university as oldest scientist
Edith Cowan University in Perth feared Dr David Goodall's presence was a safety risk due to his age.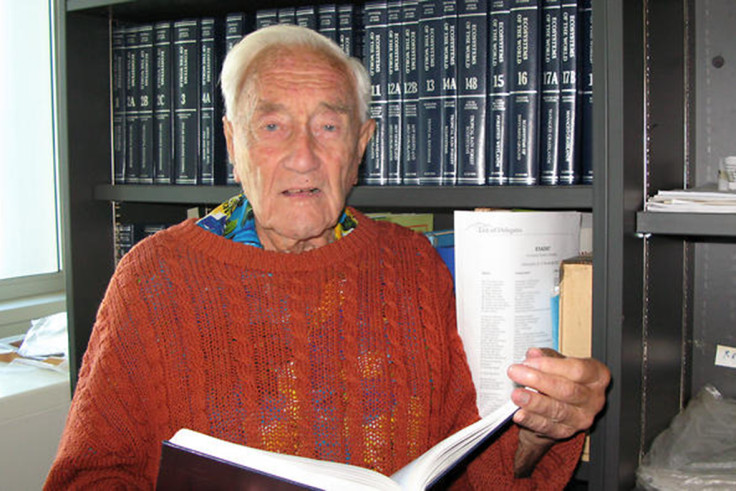 A 102-year-old scientist from Australia has been given rights to continue his research on campus at the Edith Cowan University (ECU) in Perth. Dr David Goodall, who is dubbed Australia's oldest working scientist, was asked to operate from home after the university reportedly felt his presence presented a health and safety risk due to his age.
But he contested the move as he wanted to continue working at the university. Goodall has worked at the educational institution for more than 20 years and has studied ecology for 70.
He has now been provided with an alternative workspace and will serve as an unpaid honorary research associate for another three years.
Confirming the new arrangement made for Goodall, vice-chancellor Steve Chapman said that both the sides had to compromise to accommodate the ecologist at the university campus.
Chapman noted that ECU has found a "better" office for Goodall, which will also be closer to his residence as he was earlier travelling for 90 minutes to reach his workstation at the university.
Goodall will be required to inform the university when he gets to office so that the university can is informed if he fails to turn up for work.
"I think it's a better solution for him and a better solution for the university," Chapman was cited as saying by ABC News.
Goodall said that he was grateful the university managed to accommodate him.
"I hope to continue with some useful work in my field in so far as my eyesight permits. But I still think the emphasis on safety was unnecessary," the ecologist said.
His plight is said to have gained public attention in Australia with debates focusing about the value of senior citizens who want to work well into their old age.
"I think people were rather sympathetic to me as a centenarian who wanted to continue life in society. I prefer to be on campus because there are other people around and people who potentially are friends," Goodall said.
Recently, he faced a setback as he was forced to give up theatre after his waning eyesight prevented him from driving to rehearsals, BBC reported.
© Copyright IBTimes 2023. All rights reserved.