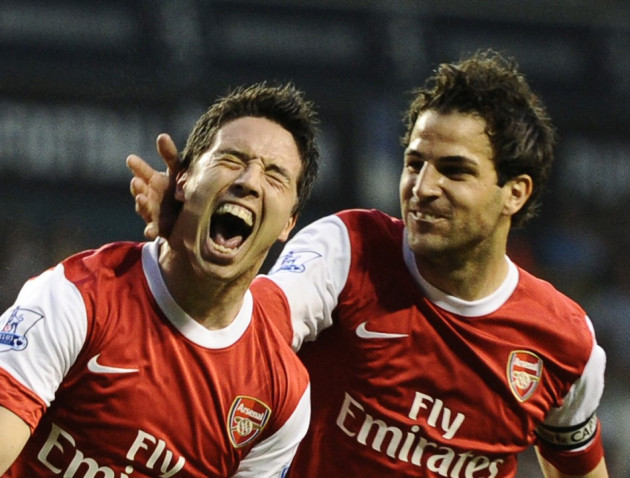 The pick of today's Premier League, Serie A, La Liga and Bundesliga football transfer rumours, news and gossip for 11 August, 2011. All the latest transfer rumours surrounding Man Utd, Chelsea, Arsenal, Liverpool, Tottenham Hotspur, Manchester City, Bayern Munich, AC Milan, Inter Milan, Juventus, Roma, Barcelona and Real Madrid will be covered here.
Premier League
Arsene Wenger is set to receive a £60m transfer "war-chest" after deciding that he is now ready to sell both Cesc Fabregas and Samir Nasri. Eden Hazard is no longer available so Wenger will concentrate on alternative Arsenal targets, including Juan Mata, Gary Cahill and, a tad incongrously, Mancester United's Danny Wellbeck.
Fabregas is off to Barcelona, possibly in the next 48 hours, while Nasri's move to Manchester City "is done" and could be completed in "a matter of hours" according to various French sources. Boss Roberto Mancini will then turn his attention to 17-year-old Argentine "sensation" Eugenio Isnaldo, reports the Daily Mail. The paper describes how the Newell's Old Boys player lined up in a friendly against Liverpool on Wednesday that City won 1-0, which is mighty impressive when you think about it.
Chelsea have stepped up their pursuit of Brazilian strike ace Neymar after assistant Roberto Di Matteo watched him play against Brazil, according to the Sun, despite Santos president Luis Álvaro's assertion that the forward "will not leave until January 2012."
Carlos Tevez makes his daily appearance in every newspaper but his proposed move to Inter Milan is only a loan deal and hinges on whether the Serie A club sell Samuel Eto'o to Russian side Anzhi Makhachkala. The club's billionaire owner Suleyman Kerimov is set to make the Cameroon international the highest-paid player in the world on wages of £300,000-a-week.
Across town, Tottenham will attempt to persuade Villarreal's Giuseppe Rossi to swap the peaceful Spanish coast for battle-scarred north London after losing out on Athletic Bilbao striker Fernando Llorente. Boss Harry Redknapp is also interested in Real Madrid Lassana Diarra but has had an initial bid turned down by the Spanish giants who value the former Arsenal, Chelsea and Portsmouth star at £15.8m.
Liverpool are interested in German centre back Per Mertesacker and Birmingham's Scott Dann but Alberto Aquilani is going nowhere: "I'm at a big club, I'd love to stay and play. But the market closes 31 Aug. We'll see. I'm calm. People talk a lot of rubbish about me. It's not true that Liverpool aren't giving me a chance.I feel like they appreciate me."
La Liga
Santos striker Neymar has described Real Madrid as "a great club with a great history", but he also called Barcelona the "best team in the world", nay three days ago, so speculation continues over whether the 19-year-old will leave the Brazilian club and head for Spain.
Santos president Luis Álvaro reckons the Brazil hot-shot isn't going anywhere soon: "Neymar will not leave until January 2012. But it's not just Mourinho's club that is interested. There is also Barcelona, Juventus, Chelsea and PSG. This is normal because it is a great player. Anyway, I will negotiate for it only in 2012."
Serie A
Hamburg winger Eljero Elia has rejected rumours linking him with a move to Juventus: "The club told me that they won't let me join Juventus, but that's not a problem for me. I've agreed with the club that we'd open talks if a big club like Arsenal or Chelsea comes knocking," Elia was quoted as saying by Hamburger Morgenpost. "There's no need to talk if a club of the same level as HSV is interested. Juventus are still one of the best Italian teams around, but they're not better than Hamburg in my opinion."
With Samuel Eto'o and Wesley Sneidjer poised to leave the San Siro, Kenya star McDonald Mariga is close to securing a €4 million move to Real Sociedad from Inter Milan according to reports in Italy.
Meanwhile, Zlatan Ibrahimovic has expressed his desire to see out his career at AC Milan: "I used to play for Barcelona, the world's best team, but was not happy," he said. "When you've had an experience as bad as that you understand what is really important. I'll only leave when the club does not want me anymore."