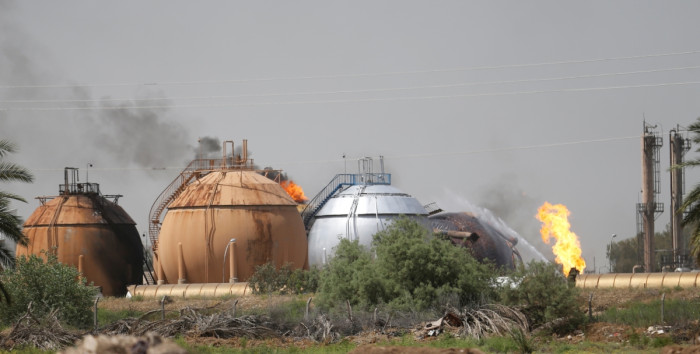 Islamic State (Isis) suicide bombers attacked a gas plant on the outskirts of Baghdad killing at least 11 people, and destroying three gas storage tanks at around 6am local time on Sunday, 15 May. Dramatic video footage from a nearby highway showed the moment the gas tanks exploded, sending bright yellow flame and mushroom clouds high into the air.
"The terrorists exploded a truck at the door of the factory and then six suicide bombers wearing explosive belts stormed into the factory," Baghdad Operations Command (BOC) spokesman Saad Maan said in a statement. "Three gas storage units were burnt during the attack and civil defence forces managed to extinguish the fire."
Iraqi security forces are now in control of the site, said BOC Lieutenant General Abdul Amir al-Shammari. Although Isis (Daesh) has not yet officially claimed responsibility, the combination of a truck bomb and suicide bombers are consistent with the group's usual methods.
IS is losing territory across Iraq and neighbouring Syria and has lost many of its most high-profile leaders, but continues to wreak havoc where it can. Baghdad has been a regular target of bombings and attacks.
Also on Sunday, a bomb planted in the nearby neighbourhood of Hussainiyah, killing one person and injuring eight.
On Friday, 13 May, IS carried out a suicide attack on a football cafe in Balad, killing at least 13 Real Madrid fans who had gathered to watch an old match.
On Thursday, at least two policemen were injured in IS attacks on police stations in the Iraqi capital.
Another IS leader dead
However, Iran-based Press TV is today reporting claims that one of the IS leaders responsible for the notorious massacre of Iraqi army recruits in 2014 has died in a shoot-out with Iraqi forces.
Ali Salman, also known as al-Azirah, died along with three other militants south of Kirkuk.
Around 1,700 recruits were seen being massacred in a gruesome video released by IS after they stormed the former US base at Camp Speicher on 12 June 2014.