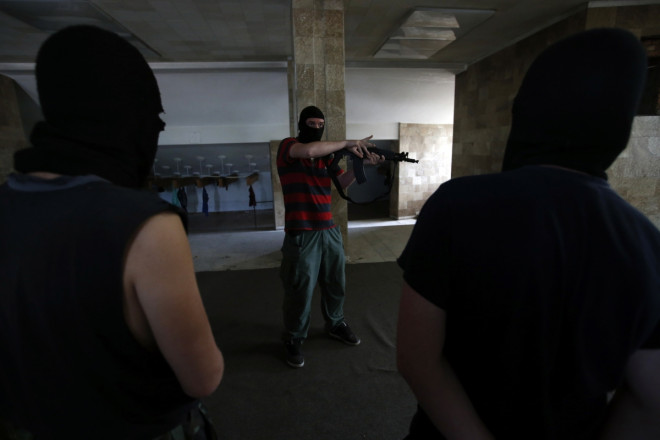 At least 11 Ukrainian security personnel were killed and 18 wounded in a deadly attack by pro-Russian separatists in the eastern region of Donetsk, according to the Ukrainian government.
Gunmen opened fire on a military checkpoint before an armoured vehicle was struck by rocket grenades and mortars near Volnovakha in the Donetsk region, the Ukrainian Defence Ministry said.
In a separate attack, dozens of separatists attempted to enter the Luhansk region but were thwarted in clashes with Ukrainian border guards.
The ministry blamed the assault in the Luhansk city of Rubizhne on "terrorists" who had used "civilian provocateurs" to block a bridge before opening fire past the human shields.
Pro-Kremlin news outlet LifeNews claimed that 15 had been killed and 35 wounded in the attacks but this could not be immediately verified.
The attacks come just three days before the former Soviet state holds a presidential election after the ousting of exiled President Viktor Yanukovich during mass anti-government protests in February.
The vote for a new Ukrainian president takes place on Sunday but the poll will not be held in the regions of Donetsk or Luhansk because of the growing unrest which has seen separatists declare independence from Kiev's interim government.
Ukraine, the European Union and the United States have all moved to condemn Russia for stoking tensions in the country's east but, earlier this week, Russian President Vladimir Putin ordered Russian troops conducting military exercises near the Ukrainian border to return to their barracks.