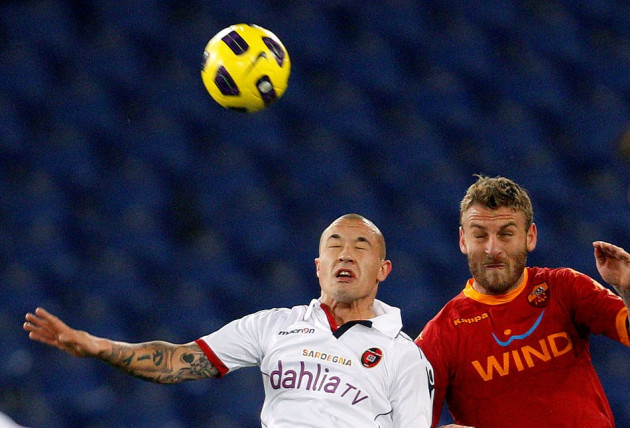 The pick of today's Premier League, Serie A, La Liga and Bundesliga football transfer rumours, news and gossip for 13 July 2011. All the latest transfer rumours surrounding Man Utd, Chelsea, Arsenal, Liverpool, Manchester City, Bayern Munich, AC Milan, Inter Milan, Juventus, Roma, Barcelona and Real Madrid will be covered here.
Premier League
Liverpool's expensive misfit Alberto Aquilani could be off to Fiorentina next season, according to talkSPORT, although the Florence club will still have to cough up at least £15m for the Italian international as the Anfield club look to recoup a portion of the £20m they spent in 2009. Meanwhile, reports suggest Kenny Dalglish will pull a sock over his head in an attempt to "hijack" Arsenal's bid for Lyon defender Aly Cissokho -- even though Arsene Wenger doesn't want the defender anymore.Talking of patchy left-backs, Liverpool are weighing up a move for Manchester City outcast Wayne Bridge if they fail to lure Leighton Baines away from neighbours Everton.
The Sun reckons Manchester United chief executive David Gill was in Milan last night to seal the £35m transfer of Wesley Sneijder. The paper then gives itself a little self-congratulatory pat on the back for "predicting" the deal -- almost as if this column had "predicted" that a website where you can look at inebriated pictures of your friends and stalk old-lovers would be wildly successful, but whatever. United are also interested in Real Madrid midfielder Lassana Diarra, who is surplus to requirements at the Bernabeu.
Meanwhile, west London spendthrifts Chelsea are set to make a "bargain" £15m bid for Daniele De Rossi to replace the injured Michael Essien. Which seems like a lot but really isn't when you consider Jordan Henderson cost £20m and he's never won the World Cup. Chelsea are also interested in West Ham captain Scott Parker who could join on a season-long loan. Bolton defender Gary Cahill could be on his way to Stamford Bridge after Dad of the Year 2009-winner John Terry advised Andre Villas-Boas to sign the England international. But sullen striker Nicolas Anelka could be offloaded before the start of the new campaign, the French international could link up with David Beckham at LA Galaxy next season, according to La Parisien.
La Liga
Talking of Beckham, the former England international told Sports Illustrated that playing for Real Madrid manager Jose Mourinho would be a "dream". Right, moving on to more serious fare, Mourinho is set to trump Corinthians in the "race to land" Manchester City striker Carlos Tevez. The Madrid manager said, "In my opinion, and in that of everyone, we are missing one more man, one more attacker," which could mean he's interested in Kevin Doyle but it's more interesting if we say it's one of Tevez, Sergio Aguero or Neymar.
Meanwhile, Barcelona boss Pep Guardiola is "optimistic" that the end of the four-year-long Cesc Fabregas transfer saga is finally nearing its end after the club tabled an improved, third bid for the Arsenal captain. But the Alexis Sanchez deal is far from over after Udinese sporting director Fabrizio Larini rubbished claims from Spain that the Chile international will join Barcelona today.
"I cannot confirm those reports," he told Tuttomercatoweb.it (via ESPN Soccer), "I will meet with Udinese owners tonight and we will see what happens. Eventually, they will be the ones to give the news. These are long negotiations and considering that Sanchez is playing in the Copa America, there is no need to resolve the situation immediately. We cannot forget that earlier this summer the media had already confirmed Sanchez's move to Barcelona and in the end it was not true."