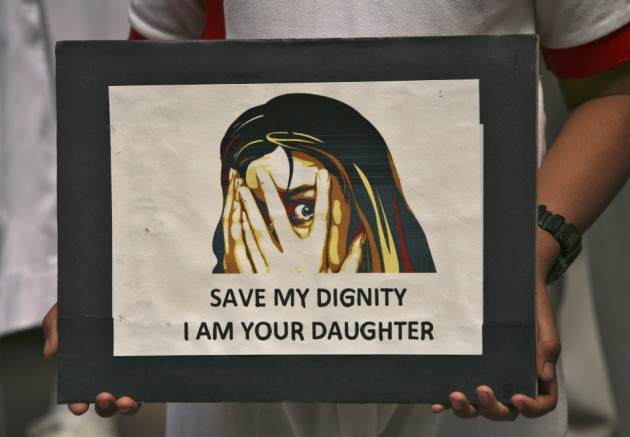 A teenager from Eastern Uttar Pradesh in Northern part of India was allegedly stripped and humiliated by a senior police officer, when she wanted to file a rape complaint. Jais Raj Yadav, the police officer in charge, apparently made her strip claiming that he wanted to check if she was sexually assaulted. He also reportedly chased away the girl and her parents without filing and FIR (First Information Report).
"He took me into a room and closed the door. He then asked me to remove my clothes," the 14-year-old girl stated.
Her parents then took the matter to a senior cop, where their complaint was taken and the accused arrested. The Superintendent of Police has ordered a probe against the cop who humiliated the girl.
Meanwhile, just a few weeks back, an Indian court sentenced four men to death for the gang rape and murder of a young woman in Delhi. The 23-year-old woman was brutally gang raped in a bus and the accused also penetrated her with a metal rod, causing the massive injuries that eventually led to her death.
While India's Supreme Court has maintained that death penalty should be used only in 'the rarest of rare cases', political pressure and the huge uproar in India over the case has finally ensured that the accused were sent to the gallows.
"In these times, when crime against women is on the rise, the courts cannot turn a blind eye toward such gruesome crimes," Judge Yogesh Khanna stated as he gave the death sentence.
Rapes are more often blamed on the victims with many of them shunned by their families, fired from jobs and driven from their villages. A few days back, a 14-year-old rape victim in Jharkhand state of India committed suicide after consuming poison. This was after the alleged rapist started putting pressure on the victim and her family to withdraw the police case and marry him.
A few days back, a group of four stand-up comedians in India, called AIB, have made a satirical video under the campaign 'It's Your Fault', in the wake of several cases of sexual assault and violence against women.
Click here for the video which has gone viral in YouTube, garnering around 1, 25,000 hits in less than 48 hours of its release.