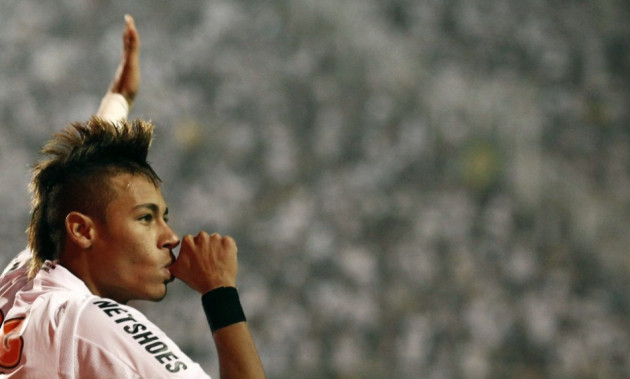 The pick of today's Premier League, Serie A, La Liga and Bundesliga football transfer rumours, news and gossip for 15 August, 2011. All the latest transfer rumours surrounding Man Utd, Chelsea, Arsenal, Liverpool, Tottenham Hotspur, Manchester City, Bayern Munich, AC Milan, Inter Milan, Juventus, Roma, Barcelona and Real Madrid will be covered here.
It's official: Summer is over. The cricket is drawing to a close, cycling, tennis: gone. There are even actual genuine football matches being played every Saturday, Sunday, Monday, Tuesday day of the week.
Subsequently, there are even fewer transfer rumours kicking around this morning so let's get started.
Premier League
Chelsea face competition from Manchester City in their non-pursuit of Santos striker Neymar. The Brazil international has been linked with Barcelona and Real Madrid this summer, with Santos reluctant to sell the player for anything less than £40m.
Liverpool are putting the final building blocks of their Europa League season in place by asking lumbering rag-and-bone midfielder Christian Poulsen to "do one", preferably to Belgium where Anderlecht are interested, apparently. Meanwhile, Reds boss Kenny Dalglish is interested in bringing Celtic winger Paddy McCourt to Anfield, after watching the 27-year-old impress for Northern Ireland against the Faroe Islands last week.
Arsenal are eyeing up Shakhtar Donetsk playmaker Jadson and Bolton's Gary Cahill, as Arsene Wenger looks to reinvest some of the £55m he is set to receive when Cesc Fabregas and Samir Nasri jump ship to Barcelona and Manchester City respectively.
Tottenham boss Harry Redknapp has been quiet this summer, a little too quiet. He may try to sign West Brom striker Peter Odemwingie, but only if Peter Crouch leaves. So probably not.
La Liga
It's over. It's finally, finally over.
Real Madrid's Gonzalo Higuain is unlikely to move to Liverpool, despite reports linking the striker with a £22m move to Anfield.
Reds director of football Damien Comolli said the club had not expressed an interest in the Argentina international and that Jose Enrique would be the club's final signing of the summer.
"You can never say never, but it is likely," he told the club's Web site.
Serie A
Reports in Italy suggest Inter will use the cash raised from the sale of Samuel Eto'o to Anzhi Makhachkala to fund bids for Carlos Tevez and Diego Forlan. Manchester City could allow Tevez to move on loan for a season, while Forlan is available for €10 million.
Former Juventus and Italy defender Nicola Legrottaglie has revealed that he plans to become a preacher if he cannot find a new club, ESPN Soccer reports.
"The transfer market has changed and clubs now adopt the policy of wanting a much younger squad. I feel in good shape and think I can play on for another two years, but if there are no offers, then I cannot create them.
"I will dedicate myself to my main mission - the Bible. I'll spend a year in London to learn the language and then travel the world with a wonderful Australian community that is working well to spread the word of the Lord," Hhe told Libero:
Finally, Wolfsburg's Simon Kjaer is not moving to Roma, according to his agent Mikkel Beck, who told Gazzetta dello Sport: "I read the stories, but have had no concrete evidence of the links. Nobody from Wolfsburg has talked to me about an agreement with Roma. So far these are only rumours. All I can say is that he is a Wolfsburg player and continues to focus on the Bundesliga. I have no appointments lined up with the club or with Roma."