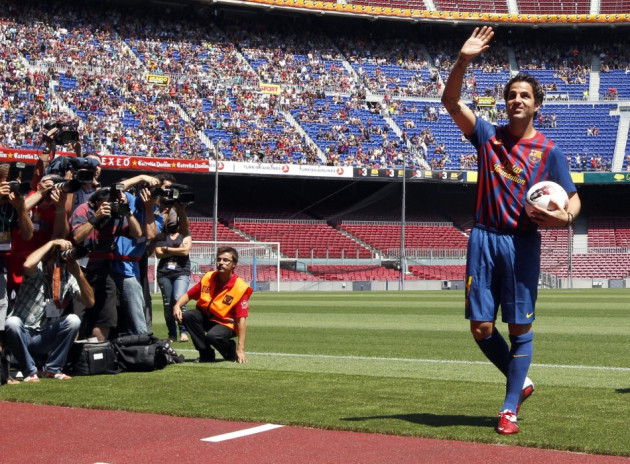 The pick of today's Premier League, Serie A, La Liga and Bundesliga football transfer rumours, news and gossip for 16 August, 2011. All the latest transfer rumours surrounding Man Utd, Chelsea, Arsenal, Liverpool, Tottenham Hotspur, Manchester City, Bayern Munich, AC Milan, Inter Milan, Juventus, Roma, Barcelona and Real Madrid will be covered here.
Cesc Fabregas may have finally moved back to Barcelona, instantly cutting this column's content by a clean 30 per cent but that doesn't mean the rumours of his eventual "return to Arsenal" can't start right here, right now. Oh no, it appears that Wenger, canny fox that he is, has negotiated an option giving the Gunners first option to buy their erstwhile captain back - and also to receive half of any fee if Barca choose to sell him elsewhere.
Fabregas to Arsenal? It's got a nice buzz to it, certainly.
In other tenuous Gunners-related news, Wenger is about to sign Phil Jagielka and Juan Mata, but as we've already refuted that elsewhere, we don't need to cover it here. Next.
Having lost out on Shakhtar Donetsk midfielder Jadson, Wenger could now turn his attention to out-of favour Liverpool midfielder Joe Cole. Believe what you will.
Talking of unwanted Liverpool midfielders, Chelsea are looking to pinch tattooed hard-man Raul Meireles from Anfield, as manager Andre Villas-Boas works himself into a serious funk over the club's failure to sign Luka Modric. Villas-Boas is familiar with Meireles from their time together at Porto and the midfielder could be available for as little as £12m.
The Chelsea manager is also "familiar" with Porto striker Falcao, the Colombian isn't heading to Stamford Bridge, however, with Tottenham manager Harry Redknapp set to duke it out with Atletico Madrid over the £35m-rated forward.
Redknapp has been told to buy a striker after sending Robbie Keane off to "boyhood" club LA Galaxy. The Spurs manager is keen on ambling goal-shuffler Emmanuel Adebayor who has once again been linked with a loan move to White Hart Lane.
Meanwhile, Liverpool manager Kenny Dalglish will attempt to prise Ryan Shawcross away from Stoke with a £10m-plus-Christian Poulsen offer, while Manchester United are considering a £14m bid for Newcastle's Cheik Tiote.
La Liga
Barcelona may have spent all their summer spending money on Alexis Sanchez and Fabregas but Sevilla reckon Rodri is also heading to Catalonia, a statement on the club's Web site reads: "Sevilla FC forward Rodri will be in Barcelona later [Monday evening] to have his medical. Barcelona are interested in the player to join their B team.''
Meanwhile, Manchester City could challenge Real Madrid for the signature of Santos hot-shot Neymar, with reports suggesting the English side are willing to pay £40m to partner the Brazilian with new-signing Sergio Aguero.
Serie A
La Gazzetta dello Sport expects Samuel Eto'o to complete his move to Anzhi Makhachkala in the next couple of days and AC Milan striker Zlatan Ibrahimovic reckons losing the Cameroon international could seriously dent Inter's title hopes.
"If Inter lose Eto'o it's normal that they'll lose quality, there isn't another player like Eto'o, he's proved he's one of the best in the world," Ibrahimovic told the Italian press.
Across town, AC Milan chief executive Adriano Galliani thinks Antonio Cassano will stay. "I am happy for Cassano, he played well against Malmo and I admire him. I was the one who took him to Milan," Galliani told Sky Sport Italia. "He still has three years left on his contract with us and we have an excellent attack with him in the team. Cassano is a fantastic talent and he was destined to be a Milan player."
Finally, Calciomercato.com claims Fiorentina would consider a swap deal with AC Milan, exchanging Riccardo Montolivo for Gianluca Zambrotta.
And that's your lot for another day.