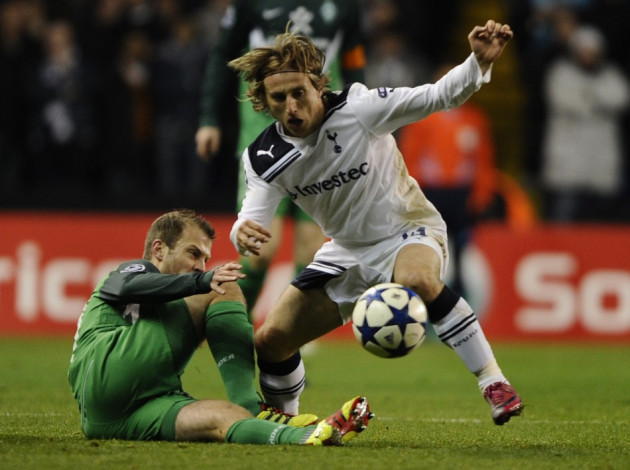 The pick of today's Premier League, Serie A, La Liga and Bundesliga football transfer rumours, news and gossip for 19 August, 2011. All the latest transfer rumours surrounding Man Utd, Chelsea, Arsenal, Liverpool, Tottenham Hotspur, Manchester City, Bayern Munich, AC Milan, Inter Milan, Juventus, Roma, Barcelona and Real Madrid will be covered here.
There's a palpable surfeit of solid transfer news this morning, with the Premier League gearing up to play some actual football while clubs across Europe continue to vacation. Let's get this over with then.
Premier League
As the IBTimes speculated yesterday, Chelsea are planning a £60m "double raid" for Tottenham's Luka Modric and Valencia midfielder Juan Mata, but could also have a cheeky punt for Shakhtar Donetsk forward Willian, after the player "opened the door" to a move to London. Reports in Germany suggest the Blues are also interested in Lille's £28m-rated forward Eden Hazard, with Arsenal and Liverpool also monitoring the situation.
Spurs boss Harry Redknapp fancies a new Lass, Lassana Diarra to be precise. "I like him," Redknapp told reporters. "It's a possibility. [Chairman Daniel Levy has] been trying for us. He's been trying to do something there."
Kudos to Liverpool's Kenny Dalglish for his honesty. Asked if Jose Enrique would be the club's last signing of the summer, he said: "Until the transfer window shuts, the most honest answer I can give is, 'I don't know'."
Manchester United, meanwhile, won't give up on Wesley Sneijder, despite not actually being interested in signing the Inter Milan midfielder. The Sun claim that boss Sir Alex Ferguson is happy to wait until transfer deadline day before finalising the transfer.
Serie A
In Italy, Samel Eto'o's hopes of a dream move to Dagestan appear to have foundered. The Cameroon international was set to complete his £20m move to Anzhi Makhachkala on Thursday, now he's not so sure: "Right now, I'm not optimistic. There are a lot of items that need to be put in order. Nothing has been resolved,'' intermediary and FIFA agent Peppino Tirri said, according to the ANSA news agency - via ESPN.
Ezequiel Lavezzi's agent, Alejandro Mazzoni, says there has been no contact with Inter Milan over his proposed move from Napoli: "I can say there has been no official offer from Inter for Lavezzi",'' he told Radio Kiss Kiss - via ESPN. "I don't know if the clubs have spoken, but there is nothing concrete. If the clubs were to reach an agreement then maybe something could happen".
Long-haired, blond, backpackers are two a penny in Milan but that hasn't stopped Sky Sports Italia from reporting that Diego Forlan could be amongst them. The Italian broadcaster apparently "spotted" the Atletico Madrid player in Milan on Thursday, amidst speculation of a move to Inter. The Uruguay striker was quoted on Tuesday saying the Serie A side had made an offer and it would be "a dream" to go to the San Siro.
La Liga
In Spain, Atletico Madrid have agreed a deal for Porto striker Radamel Falcao, reported to be worth around £35 million. Falcao, 25, will join the Spanish club subject to passing a medical, with his Porto team-mate Ruben Micael following him to Madrid in a separate deal.
Finally, Calcio Mercato - via ESPN - says Barcelona have told AC Milan and Roma that Thiago Alcantara is going nowhere.
And that's it for another week.