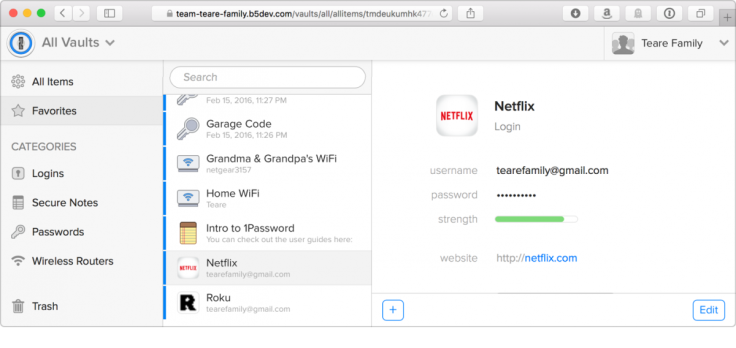 1Password, the popular password storing free app, has added a new family plan, which allows users to sync up to five additional accounts. The new feature will give users the option of retaining their individual accounts while simultaneously syncing a series of shared passwords among other family members.
The family plan, aptly dubbed 1Password for Families, is based on the app's Teams structure, launched in November 2015. The new feature allows families to sync up common passwords like Netflix or home WiFi passwords. These will be conveniently placed in the shared section of the app. The app also offers sharing of other important information like credit card numbers, shared account logins and notes.
Dave Teare, the founder of AgileBits and lead developer of the 1Password app, said in a blog: "Families are near and dear to our hearts, so we wanted to find a way to make 1Password affordable and accessible for all families everywhere. Today, I'm happy to announce that we succeeded! We've created a special plan with an amazing price just for families, and we went even further by making it easier than ever for families to use 1Password."
Unlike the app, 1Password's family plan feature does not come free. The subscription for 1Password for Family has been priced at $5 (£3.50) per month, which brings up the total yearly cost to $60.
However, to encourage more users to sign up, 1Password is offering to waive the cost of the first month's subscription, making the service free for an entire month. As part of its special launch offer, 1Password is offering additional perks to its users. Those who create an account before 21 March will be offered a $10 credit, giving them an additional two months of free service. Early bird subscribers will also get extra storage space of up to 2GB and will be able to add two family members for free.