Authorities in the Philippines said on Thursday (6 April) that they had arrested two suspected Isis militants – a Kuwaiti national and his Syrian wife – for allegedly plotting an attack in the Philippines and Kuwait. They were allegedly developing explosives for the attacks.
Husayn Al-Dhafiri and his wife Rahaf Zina were arrested on 25 March in Taguig – an upscale district in Manila – following a tip-off from Kuwaiti authorities.
Justice Secretary Vitaliano Aguirre told reporters while presenting the two suspects before the media on Thursday that the couple were arrested with the help of the Federal Bureau of Investigation (FBI). They were taken into custody as they failed to provide immigration documents to police during verification.
Al-Dhafiri was identified as a mid-level Isis leader and the brother of a slain Isis leader, according to the Inquirer.
Aguirre stressed that the FBI told them that "Husayn Al-Dhafiri aka Warsh al-Kuwaiti aka Abu Muslim al-Kuwaiti, has links to terrorism and is believed to pose a threat to the national security of the Philippines".
Kuwaiti authorities want Al-Dhafiri deported so that he can face charges in his home country, CNN Philippines reported.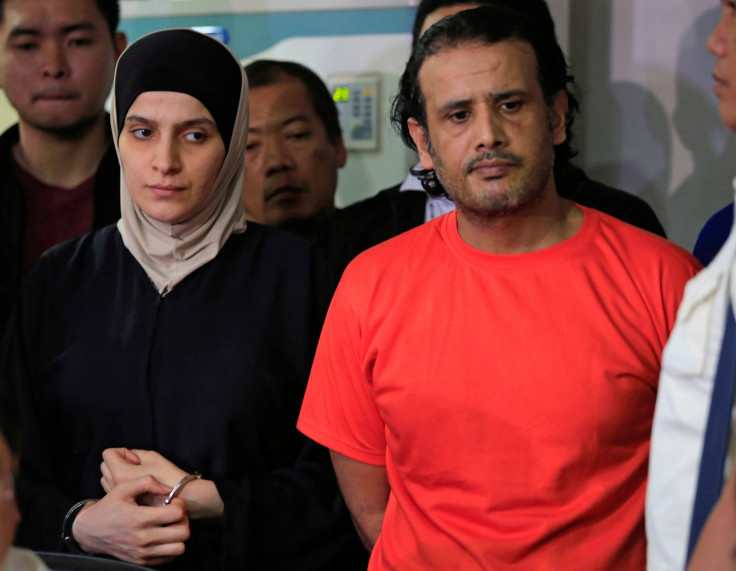 Zina, who claimed that she is pregnant, was reportedly identified as the widow of Abu Jandal Al-Kuwaiti, the second highest commander of Isis, who was killed in the Middle East. She was sent to a hospital for medical attention.
The duo are currently in custody of the Philippines National Bureau of Investigation, but the justice chief said that the suspects would be charged under immigration laws as they could not furnish proper documents. They will then be deportation to their respective countries.
Meanwhile, Armed Forces spokesperson Brigadier General Restituto Padilla, who was also present at the press conference said: "The presence of the threat is not what is critical, what is very important and critical to the Armed Forces is its ability to respond when a threat becomes active.
"Based on our assessment we are leaning forward and we are proactively engaged with all these threats."