The 2012 London Olympics are finally up and running and there is that deliciously exciting nip in the air... a shiver runs through our bones as we contemplate more than a fortnight of the widest variety of sporting action you are ever likely to see arraigned under one roof.
It can get a little confusing though! There is so much to see... so many sports to follow and apart from promoting positive philosophies and ideals of love, camaraderie and healthy competition, the Olympics has one very important function - it brings to the fore sporting professionals, athletes and stars from disciplines we may not always be familiar with or pay much attention to.
IBTimes UK presents the first of our daily round-up and previews to all the action from the 2012 London Olympics. If you want to find out which of your favourite athletes will be in the spotlight on each day or even if you simply want to discover a new sport... this should give you all the information on the biggest events of each day.
Competition Day 1 - 27 July: Round-Up
The opening day of the 2012 London Olympics - Friday, 27 July - was all about Danny Boyle's £27m Isles of Wonder extravaganza. However, behind all the glitz and glamour of the show, there was the serious business of sporting glory to attend to and it all started with preliminaries for the archery events. It started with Ranking Rounds for the men's and women's individual and team competitions and it started, amazingly, with a World Record for South Korean archer Im Dong Hyun.
World number two Dong Hyun bettered his 72 arrow mark of 696 by three points and, not content with personal glory, he also played a part in establishing a record for the team shoot.
In fact, the South Koreans locked out the top three spots in the men's individual Ranking Round - Kim Bubmin and Oh Jin Hyek followed their compatriot, with scores of 698 and 690 to Dong Hyun's 699. So dominant were the trio that Team GB's Larry Godfrey could only manage fourth with a distant 680 score. Dong Hyun, Bubmin and Jin Hyek also set up a team World Record of 2087 points for the men's team challenge. Team GB ranked eighth in the list, with 1994 points.
South Korea completed a dominant sweep of the archery preliminaries after world number two Ki Bo Bae and world number three Lee Sung Jin finished first and second, respectively, in the women's individual section, with scores of 671 each. To make matters interesting, third place Tan Ya-Ting of Chinese Taipei also scored 671 from a possible 720, meaning rankings were determined by the number of inner 10s each participant scored. Bae hit the inner target 31 times, Jin 30 and Ya-Ting 28.
The South Koreans completed an absolute rout of the opening day by climbing to the top of the women's team rankings as well. The country's third shooter, Choi Hyeonju, could only manage a disappointing 21st place with 651 but that was enough for South Korea to top with 1993 points to the US' 1979. Team GB women archers fared worse than their male counterparts, finishing 11th from a field of 12 countries. Meanwhile, the women's world number one, Indian Deepika Kumari was forced to settle for eighth and world number three Yuting Fang was 25th.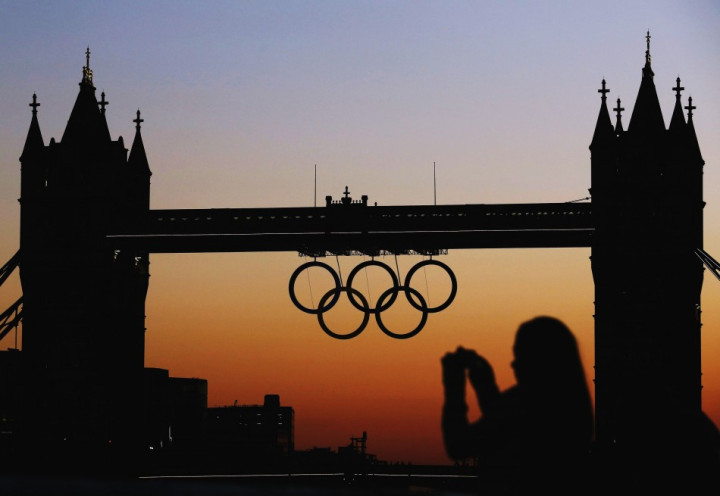 Competition Day Two - 28 July: Major Events
Archery - All the world record breaking excitement from the first day of the competition will be carried over into the second day of the 2012 Olympics and all eyes will be on the South Koreans. Can they continue their form from Friday's preliminaries? If so, we may well see the first gold medals of the London Olympics - the men's team gold will be settled on Saturday.
The day's action will start at 9 am BST with elimination rounds for the men's team challenge and the match-ups will be as follows:
Ukraine vs. Team GB (9 am BST)
Japan vs. India (9.25 am BST)
Chinese Taipei vs. Italy (9.50 am BST)
Mexico vs. Malaysia (10.15 am BST)
These will be followed by the remaining knock-out rounds - the quarter finals, the semi finals, the bronze medal match and the gold medal match - all of which will start from 3 pm BST. The gold medal match is scheduled for 6.01 pm BST.
Boxing - The second day of competition will see bouts from the men's bantam (56kg) and middle weight (75kg) events. The bantamweight rounds will lead the way, with Round of 32 fights starting from 1.30 pm BST; the day's boxing action will end at 11.15 pm BST. The action will then switch to the men's middle weight Round of 32 fights before alternating between the two categories once each to complete the day's action. The only Team GB boxer in action on Saturday will be middle weight contender Anthony Ogogo, who is scheduled to face the Dominican Republic's Junior Martinez Castillo in a Round of 32 fight at 3 pm BST.
Cycling - Meanwhile, archery isn't the only sport of the day that will see the first medals of the 2012 London Olympics. Fresh from a victorious and successful Tour de France, British riders Mark Cavendish and Bradley Wiggins will surely be odds-on favourites to win Team GB their first gold medal of the Games, in the men's road race event. Team GB will be represented by the 2012 Tour de France winner Wiggins, his wing man from the famous win, Cavendish... and David Millar, Wiggins' team mate and Tour de France runner-up Christopher Froome and Ian Stannard. Other key figures to look out for will include Italian rider Vincenzo Nibali, who finished third in the Tour de France and Australian Cadel Evans.
The race is scheduled to start at 10 am BST. Both the men's and women's road races (the latter is scheduled for Sunday, 29 July, will be held over the same course and both are straight finals. The planned course starts on The Mall and riders will cross the River Thames at Putney Bridge, cycle through Richmond and Bushy Parks and Hampton Court Palace. The course includes loops around Box Hill (nine for men and two for women) before the pack comes back up to The Mall for the finish.
Click here for IBTimes UK's detailed course map and suggestions on where to watch the race.
Tennis - The historic grass courts of SW19 will be pressed into service only weeks after world number one Roger Federer claimed his seventh Wimbledon men's singles title by beating Scotland's Andy Murray in the final. Federer has already spoken of his excitement at being back on Wimbledon's grass courts and that he is looking forward to facing either former world number one Novak Djokovic or Murray, again, in the final.
However, before any of these three can start thinking about that gold medal game, they have to work their way past a host of challengers... and it all starts on Saturday.
The Olympics' tennis event (men's and women's individuals and doubles) will start with first round matches. These are scheduled to start from 11.30 am BST and continue through the day to 7.30 pm BST.
Check out the big names in action and what time they will take to the courts:
Men's Singles -
Roger Federer (SUI) vs. Alejandro Falla (COL) - Scheduled start 4 pm BST on Centre Court
David Nalbandian (ARG) vs. Janko Tipsarevic (SRB) - Scheduled start 12 pm BST on Court No 1
Ivan Dodig (CRO) vs. Juan Martin del Potro (ARG) - Scheduled start 6 pm BST on Court No 1
Women's Singles -
Su-Wei Hsieh (TPE) vs. Shuai Peng (CHN) - Scheduled start 11.30 am BST on Court No 12
Li Na (CHN) vs. Daniela Hantuchova (SRB) - Scheduled start 3.30 am BST on Court No 2
Kim Clijsters (BEL) vs. Roberta Vinci (ITA) - Scheduled start 11.30 am BST on Court No 2
Serena Williams (USA) vs. Jelena Jankovic (SRB) - Scheduled start 2 pm BST on Centre Court
Petra Kvitova (CZE) vs. Kateryna Bondarenko (UKR) - Scheduled start 4 pm BST on Court No 1
Anne Keothavong (GB) vs. Caroline Wozniacki (DEN) - Scheduled start 6 pm BST on Centre Court
Agnes Szavay (HUN) vs. Elena Baltacha (GB) - Scheduled start 3.30 pm BST on Court No 18
Men's Doubles -
B Bryan/M Bryan (USA) vs. Andre Sa/T Bellucci (BRA) - Scheduled start 5.30 pm BST on Court No 14
John Isner/Andy Roddick (USA) vs. B Soares/M Melo (BRA) - Scheduled start 7.30 pm BST on Court No 18
C Fleming/R Hutchins (GB) vs. R Gasquet/J Benneteau (FRA) - Scheduled start 7.30 pm BST on Court No 14
J Melzer/A Peya (AUT) vs. A Murray/J Murray (GB) - Scheduled start 5.30 pm BST on Court No 3
Women's Doubles -
H Watson/L Robson (GB) vs. S Lisicki/A Kerber (GER) - Scheduled start 5.30 pm BST on Court No 12
N Petrova/M Kirilenko (RUS) vs. K Jans-Ignacik/A Rosolska (POL) - Scheduled start 11.30 am BST on Court NO 16
S Mirza/R Chakarvarthi (IND) vs. Su-Wei Hsieh/CJ Chuang (TPE) - Scheduled start 5.30 pm BST on Court No 19
Meanwhile, check out IBTimes UK's full report on the draw for the tennis events at the 2012 London Olympics.
Swimming - The final big-ticket event for Saturday will be in the pool, as the world of swimming prepares to say goodbye to the legendary Michael Phelps. The American has established himself as one of the greatest swimmers of all time and will hope to end his career on a high - by adding to the already hugely impressive tally of 16 Olympic medals (14 of which were gold!). Indeed, Phelps could well add to that tally by the end of the day - the American will participate in the men's 400m Individual Medley.
The day's action from the pool will consist of:
Men's 400m Individual Medley - Heats at 10 am BST and 10.26 am BST; Final at 7.30 pm BST
Women's 100m Butterfly - Heats at 10.34 am BST; Semi finals at 7.40 pm BST
Men's 400m Freestyle - Heats at 10.52 am BST; Final at 7.49 pm BST
Women's 400m Individual Medley - Heats at 11.17 am BST; Final at 8.09 pm BST
Men's 100m Breaststroke - Heats at 11.53 am BST; Semi finals at 8.30 pm BST
Women's 4x100m Freestyle Relay - Hears at 12.11 pm BST; Final at 8.40 pm BST
Where to Watch Live
You can follow all the action live across a number of television channels. Live coverage of the day's events starts at 6 am BST, with a three hour preview of the day's action on BBC One. Coverage of sporting action begins at 8.30 am BST (on BBC Three and BBC HD) and 9 am BST on BBC One, BBC One HD and Sky 3D). You can also follow all the action live, via text updates, on the official Web site for the 2012 London Olympics and also via a specially set-up BBC video player.