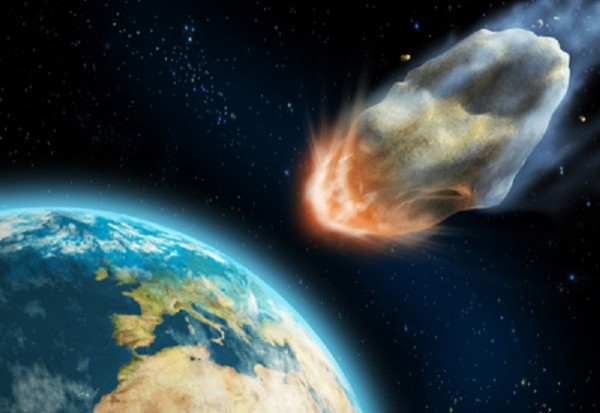 An asteroid with the destructive power of 2,500 nuclear warheads capable of destruction on a cataclismic scale is heading towards Earth - but there's no need to worry about Armageddon just yet, say scientists.
The chances of the 1,300-foot wide lump of space rock, known as 2013 TV135, colliding with our planet is a remote 63,000-1, says NASA boffins.
The asteroid, spotted by star-gazers in Ukraine earlier this month and added to NASA's list of potentially hazardous objects (PHO), will fly safely past our world on August 26, 2032, at a safe distance of 110,000,000 miles. This is, of course, presuming nothing happens in space to knock it off its current trajectory.
The destructive potential of space rocks was brought home to us earlier this year when the Chelyabinsk meteor blew up over three cities in Russia.
Gennady Borisov of the Crimean Astrophysical Observatory, who first spotted 2013 TV135, said: "On the night of October 12, I was watching the Giraffe constellation. It was an in-depth monitoring as part of the comet search program. This is when the asteroid was discovered. The first observations show that it moves quickly and is relatively close."
Diagrams drawn up by NASA illustrate just how close - on a cosmic scale - Earth's brush with the asteroid will be.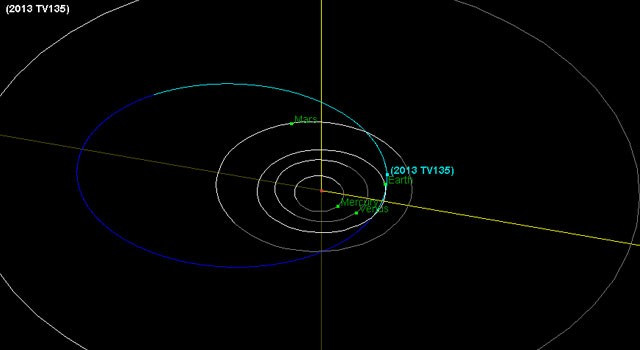 Din Yeomans of NASA's PHO project played down the likelihood of a asteroid strike. "The current probability of no impact in 2032 [is] at about 99.998%
"This is a relatively new discovery. With more observations, I fully expect we will be able to significantly reduce, or rule out entirely, any impact probability for the foreseeable future," said Yeomans.
In Russia, defence expert Igor Korotchenko warned that technology for dealing with asteroids was lagging behind other areas of defence.
"We, humankind, can intercept missiles and planes manufactured by man, but our radars and missiles are helpless against asteroids, as they travel at faster speeds of dozens of miles per second.
"They have different trajectories and can be much, much bigger than the strategic missiles we are dealing with today."