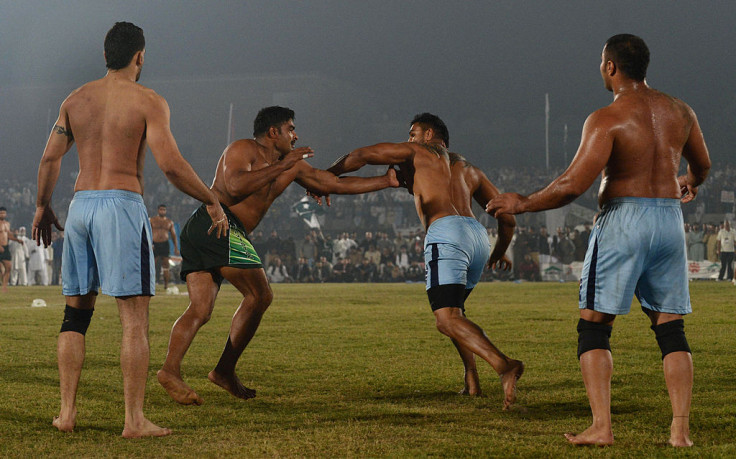 The 2016 Kabaddi World Cup will see 12 nations competing against each other from 7 October to 22 October, in order to lift the trophy at the end of the tournament. The third edition is based on the international format of the sport, which is organised by the International Kabaddi Federation in Gujarat, India.
India won on the previous two occasions. Being the host nation, they will be looking to extend their winning streak for the third time in a row. There is also a circle-style format, which is different from the international format that is being followed in the current edition taking place in Gujarat in October.
In this year's Kabaddi World Cup, all the matches, including the final will be held at the Arena by TransStadia in Ahmedabad, Gujarat's capital. The 12 teams are divided into two groups, Pool A and Pool B.
The two pools are given below:
Pool A
India
South Korea
England
Australia
Argentina
Bangladesh
Pool B
Iran
United States of America
Kenya
Japan
Thailand
Poland
Where to watch live
There will be two matches played every day from 7 October to 19 October. The first match starts at 3.30pm BST/10.30am EST/8pm IST, followed by the second match at 4.30pm BST/11.30am EST/9pm IST. On a few occasions, there will be three matches played, with the first one starting at 2.30pm BST/9.30am EST/7pm IST.
The two semi-final matches will be played on 21 October at 3.30pm BST/10.30am EST/8pm IST and 4.30pm BST/11.30am EST/9pm IST. The final will be played on 22 October at 4.30pm BST/11.30am EST/9pm IST.
Sky Sports will provide coverage of the match in the United Kingdom, while Star Sports in India are the official broadcasters of the 2016 Kabaddi World Cup. Live streaming will be available on Sky Sports' website in the United Kingdom and Hotstar in India.
TV Guide
United Kingdom: Sky Sports
India: Star Sports
United States of America: Fox Sports
Canada: CBN
Saudi Arabia: OSN Sports
Schedule:
Match 1: India vs South Korea
Date: 7 October, 3.30pm BST/10.30am EST/8pm IST
Match 2: United States vs Iran
Date: 7 October, 4.30pm BST/11.30am EST/9pm IST
Match 3: England vs Bangladesh
Date: 8 October, 2.30pm BST/9.30am EST/7pm IST
Match 4: Poland vs Kenya
Date: 8 October, 3.30pm BST/10.30am EST/8pm IST
Match 5: India vs Australia
Date: 9 October, 4.30pm BST/11.30am EST/9pm IST
Match 6: Argentina v South Korea
Date: 9 October, 2.30pm BST/9.30am EST/7pm IST
Match 7: United States vs Japan
Date: 9 October, 3.30pm BST/10.30am EST/8pm IST
Match 8: Iran vs Thailand
Date: 9 October, 4.30pm BST/11.30am EST/9pm IST
Match 9: England vs Australia
Date: 10 October, 3.30pm BST/10.30am EST/8pm IST
Match 10: Poland vs Thailand
Date: 10 October, 4.30pm BST/11.30am EST/9pm IST
Match 11: Iran vs Kenya
Date: 11 October, 3.30pm BST/10.30am EST/8pm IST
Match 12: India vs Bangladesh
Date: 11 October, 4.30pm BST/11.30am EST/9pm IST
Match 13: Australia vs Argentina
Date: 12 October, 4.30pm BST/11.30am EST/9pm IST
Match 14: Thailand vs Kenya
Date: 13 October, 3.30pm BST/10.30am EST/8pm IST
Match 15: Bangaldesh vs South Korea
Date: 13 October, 4.30pm BST/11.30am EST/9pm IST
Match 16: England vs Argentina
Date: 14 October, 3.30pm BST/10.30am EST/8pm IST
Match 17: United States vs Poland
Date: 14 October, 4.30pm BST/11.30am EST/9pm IST
Match 18: South Korea vs Australia
Date: 15 October, 2.30pm BST/9.30am EST/7pm IST
Match 19: Japan vs Iran
Date: 15 October, 3.30pm BST/10.30am EST/8pm IST
Match 20: India vs Argentina
Date: 15 October, 4.30pm BST/11.30am EST/9pm IST
Match 21: South Korea vs England
Date: 16 October, 3.30pm BST/10.30am EST/8pm IST
Match 22: Japan vs Kenya
Date: 16 October, 4.30pm BST/11.30am EST/9pm IST
Match 23: Poland vs Iran
Date: 17 October, 3.30pm BST/10.30am EST/8pm IST
Match 24: Australia vs Bangladesh
Date: 17 October, 4.30pm BST/11.30am EST/9pm IST
Match 25: United States vs Kenya
Date: 18 October, 3:30pm BST/10:30am EST/8pm IST
Match 26: India vs England
Date: 18 October, 4.30pm BST/11.30am EST/9pm IST
Match 27: Bangladesh vs Argentina
Date: 19 October, 3.30pm BST/10.30am EST/8pm IST
Match 28: Thailand vs Japan
Date: 19 October, 4.30pm BST/11.30am EST/9pm IST
Semi-final
Match 29: Semi-final 1, TBA v TBA
Date: 21 October, 3.30pm BST/10.30am EST/8pm IST
Match 30: Semi-final 2, TBA v TBA
Date: 21 October, 4.30pm BST/11.30am EST/9pm IST
Final:
Match 31: Final, TBD v TBD
Date: 22 October, 4.30pm BST/11.30am EST/9pm IST