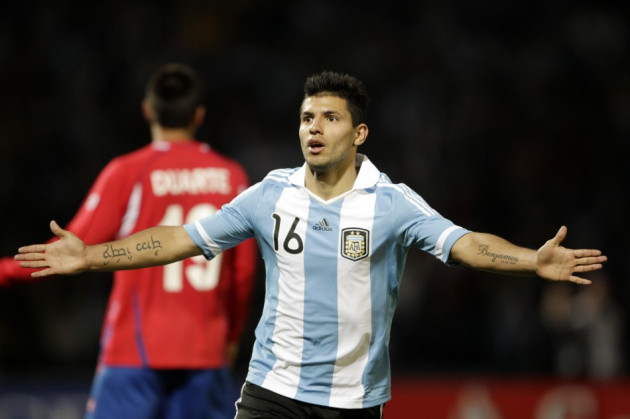 The pick of today's Premier League, Serie A, La Liga and Bundesliga football transfer rumours, news and gossip for 21 July 2011. All the latest transfer rumours surrounding Man Utd, Chelsea, Arsenal, Liverpool, Manchester City, Bayern Munich, AC Milan, Inter Milan, Juventus, Roma, Barcelona and Real Madrid will be covered here.
Premier League
Sergio Aguero is the name on everyone's lips this morning but the Atletico Madrid forward isn't heading to London so Chelsea have put in a bid for Anderlecht's 18-year-old striker Romelu Lukaku, although how much they're willing to pay, nobody's saying.
Aguero's off to noisy neighbours Manchester City as the club press ahead with their attempt to sign the Argentina international forward after Carlos Tevez's proposed move to Corinthians rather predictably broke down. However, Tevez won't be exchanged for Inter Milan's Wesley Sneijder, says talkSPORT. Instead, City boss Roberto Mancini will offer Inter £35m in cold hard cash as part of a "sensational £80 million double swoop" for Aguero and the Dutch midfielder.
With Manchester United set to miss out on Sneijder - even though they never wanted him in the first place - Sir Alex Ferguson will turn attentions to Roma midfielder Daniele De Rossi who has stalled over a new contract. He'll have to be quick though, as Chelsea and Manchester City have been put on "red alert" by the Italian's mind games. But Ferguson's good at mind games, right, so he should "win" that one. And by "win" we mean "pay £20m for an Italian international who'll look good for a couple of games and then mysteriously be rubbish".
Speaking of Italian midfield misfits, Liverpool outcast Alberto Aquilani could be on his way to Fiorentina, despite recieving the backing of owner John Henry earlier this week. Also on the verge of ending his ignominious Anfield career is Serbian international Milan Jovanovic, with a return to Anderlecht looking likely. Kenny Dalglish is after a new left-back and is "tracking" Hamburg's Macell Jansen, according to reports. The Reds are also close to "sealing a deal" for Mexican striker Marco Bueno, who has been dubbed "the new Hernandez" by just about every publication. Hernandez is good, Bueno means 'good' - that seems like a pretty solid link.
In west London Chelsea are "locked in a battle" with Everton over Marseille midfielder Lucho Gonzalez, who looks likely to leave the French club this summer. One player not heading to Stamford Bridge is Neymar, with Santos director of football Pedro Luiz Conceicao saying, "We feel 100 per cent secure and have total faith that the squad we currently have will stay, at least until the end of the year."
Meanwhile, Arsenal will make a £10m bid for Birmingham defender Scott Dann after becoming "increasingly frustrated" over Bolton's demands for Gary Cahill. Gunners target Alex Oxlade-Chamberlain could be allowed to leave Southampton - but only for £12m plus so he probably won't be off to the Emirates. Liverpool are also interested but only if Saints value the English midfielder at closer to £20m.
Finally, Valencia have indicated they could now be willing to accept an offer for Juan Mata after previously insisting he is not for sale. "The possibility exists that Mata will leave the club," Valencia manager Unai Emery told Marca - via ESPN Soccer.
La Liga
Real Madrid are the new "favourites" to sign Manchester City forward Carlos Tevez but even they're not too sure they want the Argentina international.
Cesc Fabregas....Alexis Sanchez....Neymar.....Barcelona.
Serie A
In Italy, Il Corriere dello Sport - via ESPN Soccer - reports that Wolfsburg may be tempted to part with Simon Kjaer if Juventus lodge a €10m bid for the Denmark centre-back. But they may be even more tempted by the €15 million Tuttomercato says AS Roma are prepared to pay. Arturo Vidal's proposed move to Turin is still on, at least according to Bayer Leverkusen sporting director Rudi Voller, "An agreement between Bayer and Juve has not yet been reached, but it is very near."
The pursuit of Javier Pastore is rapidly developing into a full blown 'Summer Transfer Saga' with Palermo coach Stefano Pioli doing his own grandstanding in today's press, "....we cannot have any guarantees that he will be a future part of the squad for at least another 10 days," Pioli told Radio Radio.
In the capital, Roma director Walter Sabatini has "flown into Amsterdam" to finalise a deal for Ajax goalkeeper Maarten Stekelenburg, according to Sky Italia. Finally, AC Milan vice AC Milan vice president Adriano Galliani has ruled out a move for Santos midfielder Ganso. "There will be a place for an non-European Union player but it will not be Ganso," Galliani said.