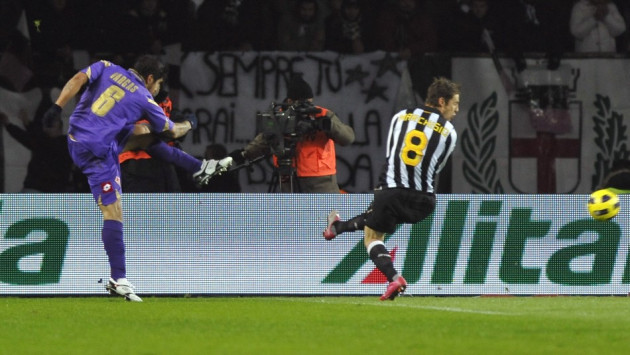 The pick of today's Premier League, Serie A, La Liga and Bundesliga football transfer rumours, news and gossip for 22 September, 2011. All the latest transfer rumours surrounding Manchester United, Chelsea, Arsenal, Liverpool, Tottenham Hotspur, Manchester City, Bayern Munich, AC Milan, Inter Milan, Juventus, Roma, Barcelona and Real Madrid will be covered here.
Arsene Wenger is planning a sensational "January spending spree" with Fiorentina's Juan Manuel Vargas top of his "transfer hit-list". The 27-year-old Peruvian, who can play at left-back, left midfield or in the centre, could be available for as little as £10m.
Wenger is also interested in Barcelona youngster Rafa "brother of Thiago" Alcantara, who has impressed in Barca's B team this season.
Despite scoring twice against Leeds, Michael Owen is unhappy at his peripheral role at Old Trafford and is quite prepared to "do one" next summer unless he plays more first-team football this season.
"I'm not content if I'm not playing an I don't want anybody to think that," Owen told the Mirror. "I get criticised a lot by people who say I don't play, but I pick my money up, I'm not proud of that fact. I want to play all the time.
"There's nothing from me in terms of any anger. I'm pleased and proud with the way I played against Leeds.
"I obviously know my position in the squad. We have got some top strikers and it is no shame on me that we've got the likes of Wayne Rooney, Chicharito, Danny Welbeck and Dimitar Berbatov. That's not a negative on me in any way."
Talking of unsettled Manchester players, City rookie Gai Assulin is considering his Eastlands future just a year after signing for the club.
The 20-year-old was expected to play in Wednesday's Carling Cup match with Birmingham, but the Australian didn't even make the squad.
"Thanks for all wishes. About tonight, unfortunately I'm not in the squad. It could be a good opportunity for me. Time to think about my future."
Finally, Liverpool and Tottenham are both "keeping tabs" on Sao Paulo midfielder Lucas. The 19-year-old made his Brazil debut earlier this year and but is unlikely to leave for less than £20m.