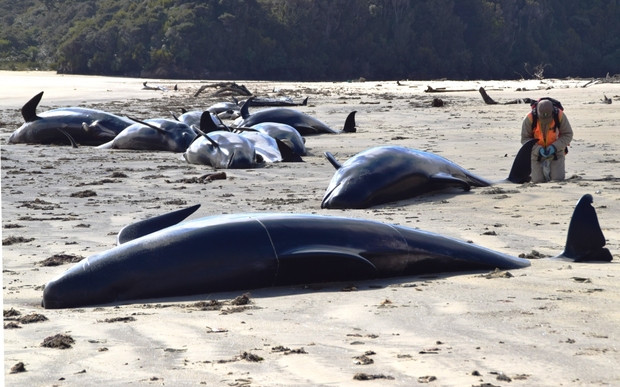 A pod of 29 whales that was stranded at a remote beach in New Zealand has died. The pilot whales, most of which were dead when discovered, were found at Doughboy Bay, an island 30km south of South Island, by two walkers on 3 November.
However, it took two days for the walkers to alert authorities, according to a statement from New Zealand's Department of Conservation (DOC).
Ranger Phred Dobbins said: "Eight of the whales were still alive when we arrived. However, refloating them was not an option given the length of time they had been stranded in hot, dry conditions. With the tide well out, we saw little hope of keeping the animals alive until enough rescuers could be flown in to assist."
The whales found alive were euthanised, with the DOC deeming it the most humane course of action.
"Euthanasia is a difficult decision but is made purely for the welfare of the animals involved, to prevent them from prolonged suffering," Dobbins said.
Due to the remote location of the beach, the whales will be left to decompose naturally.
Although 29 whales may seem a lot, it is nothing compared to the incident on Long Beach in the Chatham Islands, 800km south-east of Wellington, in 1918 when 1000 whales were stranded.