As many as 3,000 couples from 62 countries said "I do" at a so-called "religion unification marriage" ceremony held by South Korea's controversial Unification Church. The mass wedding took place at Gapyeong, about 75km north-east of Seoul, on 20 February.
Regularly held by the Unification Church since the 1960s, the mass wedding saw another 12,000 couples taking part in the ceremony via the internet, said Ryu Kyeung-seuk, the church's president in South Korea, Reuters reported.
The Unification Church was set up by the late Reverend Sun Myung Moon in Seoul in 1954. The followers of the church are often called "Moonies" after the founder. Moon's widow Hak Ja Han Moon presided over Saturday's ceremony held at the South Korean headquarters of the church.
The traditional ceremony actually allows couples to wed or renew their wedding vow. Through it, the church believes that the couple is removed from the lineage of sinful humanity and so will their future progeny be.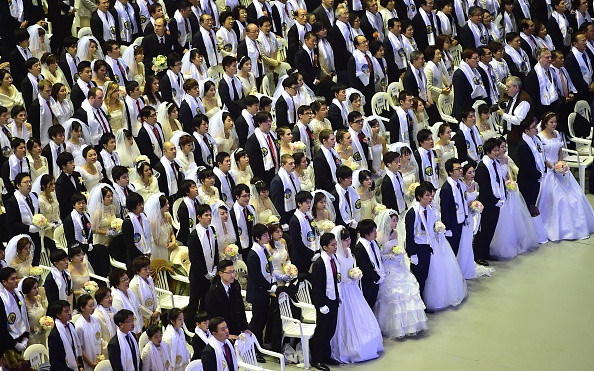 The Moonies, who took part in the South Korean event, included 1,000 newlyweds or engaged couples while the rest had been married before they became members of the church, the report said. Many of the couples are matched by Church authorities just days before the wedding.
"We've been engaged for over one year now, mostly been separated, so of course it's extremely good to be together again," Hyo-joo Song, from Britain, who married his Japanese wife during the ceremony, was quoted as saying.
"And yes, we're happy to be married and also share that experience with many other people," he added.
Sung Myung Moon died in 2013 aged 92. In 1992, he declared himself and his wife "messiahs" and was once jailed in the United States for tax evasion. His church has been accused of being a cult, with critics often questioning its finances.