Large scale operations in the Mediterranean Sea over the weekend have led to the rescue of 3,400 migrants. The Italian coastguard said that on 10 September, 2,300 people were brought to safety in 18 separate efforts and on 11 September, another 1,100 were rescued off the coast of Libya.
A Spanish boat belonging to a European Union (EU) naval force, an Irish navy vessel and boats of four non-governmental organisations were involved in the Saturday rescue operations, the coastguard said in a statement, according to Reuters. On Sunday, a British and an Irish warship also helped with the efforts. Those brought to safety were given food, water and medical treatment before being transferred to an Italian coastguard vessel.
Italian authorities did not confirm where the migrants had originally come from but mentioned that those rescued on Saturday were attempting to travel to Italy in 17 overcrowded rubber dinghies and a fishing boat.
Europe is currently facing its worst migrant crisis since World War II and according to Italy's interior ministry, 124,500 migrants have arrived into the country since the start of 2016, and the numbers are expected to grow over the next couple of weeks before winter makes the dangerous trip even more treacherous. According to records, 122,000 migrants entered Italy in 2015.
Many people from Sub-Saharan Africa have been attempting to make their way to Europe via Italy after other countries started to tighten their borders and block the entry of migrants. According to interior ministry figures this month, Italy now has 155,000 migrants in reception centres, compared to 103,000 in 2015 and 66,000 in 2014.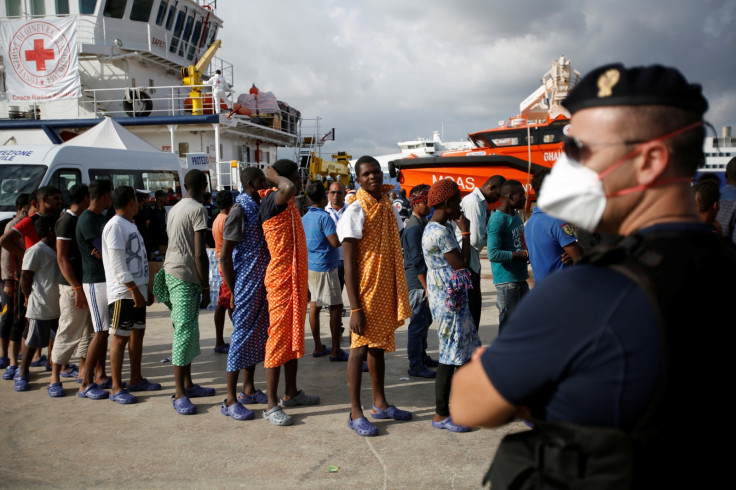 The Libyan coastguard on the other hand has been accusing the EU of enticing people to their death with rescue missions. On 10 September, Libyan officials said they would release two Germans who were arrested after they "entered Libyan territorial waters", navy spokesman Colonel Ayoub said. The two said they were members of humanitarian organisation Sea-Eye, a group that aids illegal migrants.