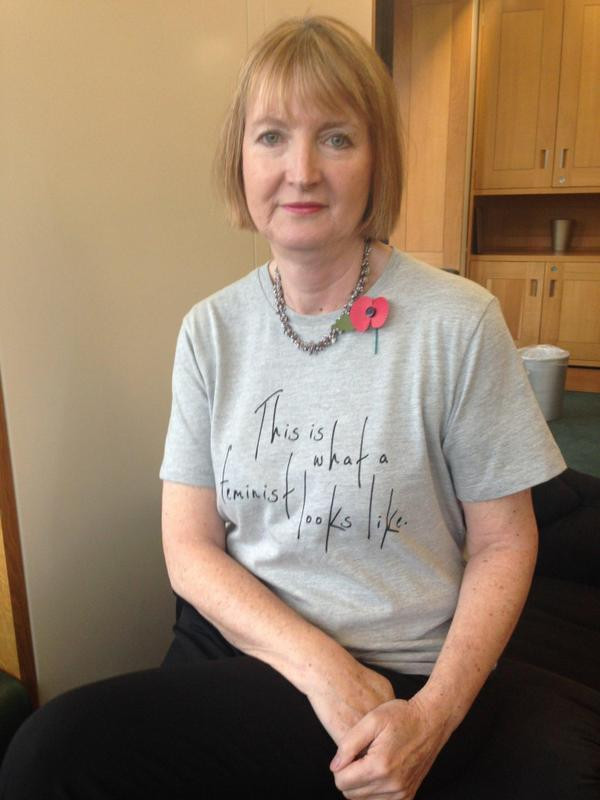 T-shirts carrying the slogan "This is what a feminist looks like" were made in "sweatshop' conditions" by women paid 62p an hour.
The T-shirts retail at £45 and were worn UK Deputy Prime Minister Nick Clegg, Labour leader Ed Miliband, and Leader of the House of Commons Harriet Harman.
A Mail On Sunday investigation reported that the women machinists in Mauritius sleep 16 to a room. One female worker said "We do not see ourselves as feminists. We see ourselves as trapped."
Fayzal Ally Beegun, president of the International Textile, Garment and Leather Workers Union said: "The workers in this factory are treated very poorly and the fact that politicians in England are making a statement using these sweatshop T-shirts is appalling.
"It would take a woman working in the factory nearly two weeks just to buy one shirt. What is feminist about that? These women have nothing in this world. They are paid a pittance and any money they do receive they send back home.
"They work very long hours and have no lives other than their work. They are on four-year contracts that mean they don't get to see their families in that time. What kind of existence is it when you are sharing your bedroom with 15 other women?"
Whistles, whose customers include Kate Middleton, is selling the T-shirts in aid of women's activism group The Fawcett Society – which receives all profits. The campaign is backed by fashion magazine Elle.
Equality campaigning group the Fawcett Society said it was "disappointed" to learn of the allegations.
Eva Neitzert, deputy chief executive of the Fawcett Society, said they had been "assured that the garments would be produced ethically here in the UK".
She said in a statement: "Upon receiving samples of the range at our offices in early October we noted that the T-shirts had in fact been produced in Mauritius, upon which we queried (over email) the ethical credentials of the Mauritian factory, and the fabric used."
Celebrities including actors Benedict Cumberbatch have been photographed wearing the T-shirt for Elle magazine.
*coughs politely* there is more to being a feminist than wearing a t-shirt. Y'all knew that right?

— The Mouth (@goddessdeeva) November 2, 2014
This is AWESOME! @HarrietHarman is wearing our feminist t-shirt for #PMQs today! @ELLEUK @thisiswhistles pic.twitter.com/Cd7dsSnnXe — Fawcett Society (@fawcettsociety) October 29, 2014
Benedict Cumberbatch shows what a #feminist looks like in @ELLEUK http://t.co/Az3ABMKBMZ via @buzzfeed #HeforShe

— UN Women (@UN_Women) October 30, 2014