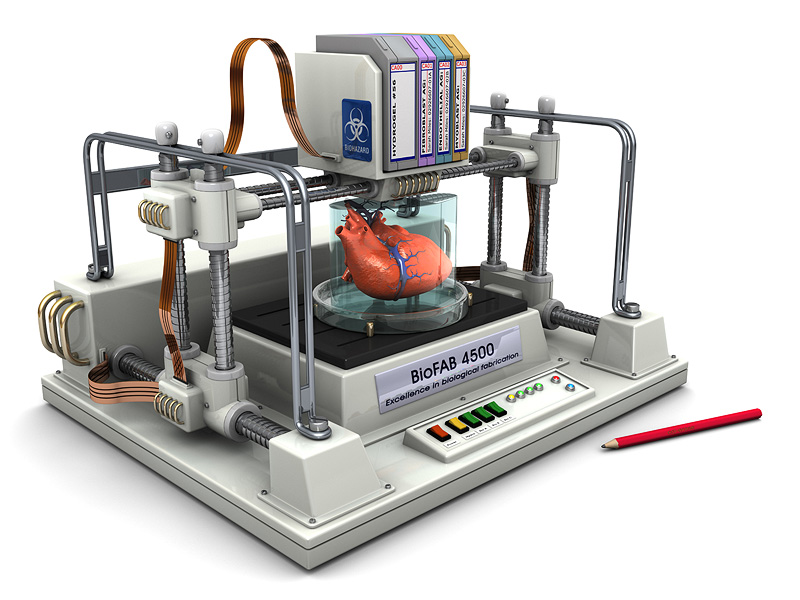 A new report looking at 3D printing trends in 2014 is predicting that a rise in 3D printers being used to print human organs could ignite fierce debate about whether the technology should be banned.
The report from research firm Gartner, entitled "Predicts 2014: 3D Printing at the Inflection Point", states that 3D bioprinted human organs will soon become a reality as significant advances in medical technology are being made every day.
"Most people do not yet realise that research is underway which involves not only printing non-human cells, but also merging human cells with non-human cells. We think that once folks begin to realise, depending on their backgrounds, there will be some who will be concerned about this possibility," Gartner research director Pete Basiliere told IBTimes UK.
Working kidney
In 2013, Hangzhou DianZi University researchers in China were able to print a small working kidney that lasted for four months using a Regenovo bioprinter, while in the US, a two-year-old child with burn wounds was fitted with a plastic windpipe infused with her stem cells that was made using a 3D printer.
"Most of the [bioprinting] research is being done in universities and start-ups. It's not really ready for the big time yet and in some cases, the research is far ahead of government agency approval. Government agencies need to be aware of the developments in this research," Basiliere added.
In the US, a company called Organovo designs and creates living human tissue using its proprietary 3D bioprinting technology to print cells that can grow into human organs.
Clinical trials
The idea is for pharmaceutical companies to test out new experimental drugs on these 3D-printed human organs in place of testing drugs on actual humans in clinical trials.
The Gartner report raises moral and ethical questions about whether organs should be printed using non-human cells or a mix of human and non-human cells, and whether there is a difference between this and genetically modified food crops.
Currently, the biggest markets for 3D printing are currently North America, Europe, Japan and China.
Intellectual property
Aside from questions over the morality of printing human cells, Gartner's research also indicates that 3D printing technology could be exploited by people looking to steal intellectual property as it will become much easier to quickly replicate products are parts of products using 3D printers.
"The ease of scanning and output makes it more practical for people who want to counterfeit an item to do so," stresses Basiliere.
Due to reduced supply chain and product development costs, criminals will be more easily able to produce counterfeit products that can be sold at a discount, but the questionable quality of these goods would put consumers, enterprises and even the military at risk, particularly if counterfeit components are used.
A million 3D printers by 2017
Gartner anticipates that the total number of consumer and enterprise 3D printer shipments will grow to over a million units by 2017, while end-users are predicted to spend over $5.7 billion (£3.43bn, €4.17bn) on 3D printers over the next three years.
There will also be an increase in 3D printers being used in education over the next three years, with greater emphasis on the technology being used in secondary schools.