Four people lost their lives on Mount Everest over the weekend, authorities said on Sunday (21 May). The deceased individuals are Roland Yearwood from the US, Vladimir Strba from Slovakia, Francesco Enrico Marchetti from Australia and Ravi Kumar from India.
Yearwood from Georgiana, Alabama, died at an altitude of about 8,400 meters (27,500 feet) in an area called "death zone", which is known for thin air.
"We have confirmation of his death but no other details are known. It is also unclear if he was on his way up or down from the summit," Murari Sharma of the Everest Parivas trekking company that sponsored his climb said.
Yearwood was with a 16-member team that was climbing the normal Southeast Ridge route from the Nepali side of the mountain. American climber Dan Mazur was leading the team, Reuters reported.
Although it was earlier reported that Indian climber Kumar went missing on Saturday, but his body was spotted on Monday by Sherpa rescuers, Associated Press reported.
Kumar got separated from his guide near a place called Balcony after he fell sick on his way down from the summit. His accompanying Nepalese Sherpa guide managed to reach the camp, but he did not come.
Thupden Sherpa of Arun Treks and Expedition said Kumar had fallen some 200 meters (650 feet) below the route.
Slovak mountaineer Vladimir Strba, 50, died on Sunday, Tourism Ministry official Gyanendra Shrestha said and added that his body had been brought to the South Col camp.
Meanwhile, Australian climber Enrico Marchetti lost his life when he was descending to the lower camps from the North Col route on Mount Everest on Sunday morning.
The 54-year-old "breathed his last at an altitude of 7,500m on Tibetan side when he was descending to lower camps after suffering from altitude sicknesses at around 8,000 m on the mountain," officials at the Tibet Mountaineering Association, confirmed.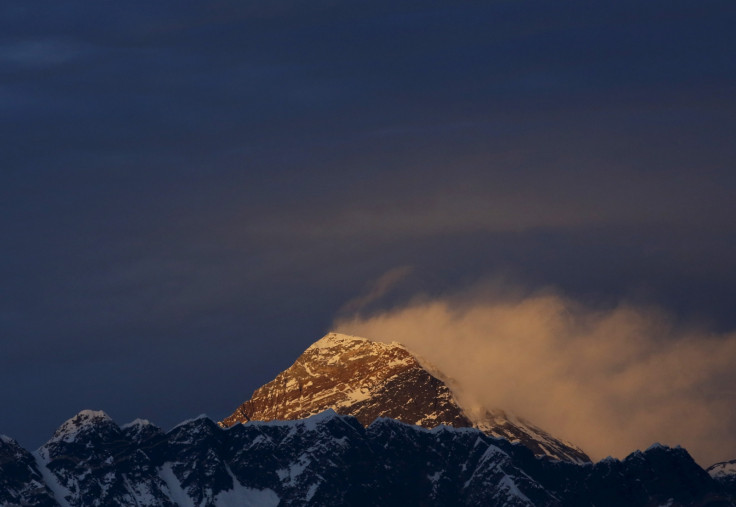 Although every year, hundreds of people try to climb to Everest, but this year, the Nepalese Tourism Department has issued a record 371 permits to people to scale the mountain. It is feared that the development could lead to dangerous "traffic jams".
The rise in number of climbers this year could be attributed to the fact that many people had been prevented from making the ascent following an avalanche that killed 16 Nepali guides in 2014 and the devastating 2015 earthquakes that prompted another avalanche, killing 18.