A number of civilians, including a five-month-old baby, are being reported dead as Israeli forces enter the Gaza strip. Israel says they are trying to prevent Hamas launching rocket attacks and tunnelling into Israel. Many civilians say they are victims of "collective punishment."
Hamas claim some 235 Palestinians had already died in the bombardment of the strip by tanks, planes and boats over the last few days, including many children. Israel says they never deliberately target civilians, unlike Hamas, which has launched hundreds of rockets into Israel. Only one Israeli has died, partly due to the sophisticated "iron dome" anti-missile system in place.
Tonight's assault by tanks and troops comes after a brief ceasefire in Gaza to allow civilians to go out and collect food. Then this evening there was a major power cut, the cause of which is unclear, and Israeli tanks entered the strip.
The Israel Defence Force (IDF) said: "Following 10 days of Hamas attacks by land, air and sea, and after repeated rejections of offers to de-escalate the situation, the IDF has initiated a ground operation within the Gaza Strip."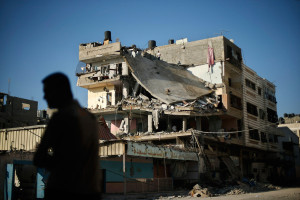 General Moti Almoz added: "I ask the residents of Gaza to evacuate the areas in which the army is operating. This operation will be extended as much as necessary."
However Hamas spokesman Fawzi Barhum said: "The start of the Israeli ground attack on Gaza is a dangerous step, the consequences of which have not been calculated. Israel will pay a high price and Hamas is ready for the confrontation." Sami Abu Zuhri of Hamas said the invasion "does not scare the Hamas leaders or the Palestinian people. We warn Netanyahu of the dreadful consequences of such a foolish act."
The origins of this latest conflict are disputed. Israel says the trigger was the murder of three Israeli teenagers. This was then followed by the revenge murder of a Palestinian boy by extremist Israelis in Jerusalem.