With just a few five months left for Sherlock season 4 to hit TV screens, fans can expect their favourite detective and his side kick to encounter their old foe Jim Moriarty and battle a new enemy played by Toby Jones. Consulting detective Sherlock Holmes played by Benedict Cumberbatch and Doctor John Watson (Martin Freeman) will return to reprise their roles as season 4 will air in early 2017.
BBC recently released the official synopsis of Sherlock season 4. Check it out below:
Season 4 begins with the mercurial Sherlock Holmes (Benedict Cumberbatch), back once more on British soil as Doctor Watson (Martin Freeman) and his wife Mary (Amanda Abbington) prepare for their biggest challenge yet: becoming parents.
Warning: Potential spoilers ahead
Actors and producers of the detective series recently shared some interesting facts regarding season 4. Here are five plot details that are expected to be part of Sherlock season 4:
1. Sherlock Holmes will return to London prematurely from his forced exile and will reunite with Doctor John Watson and Mary. Together they would try to stop Moriarty, who seems to have returned from the dead.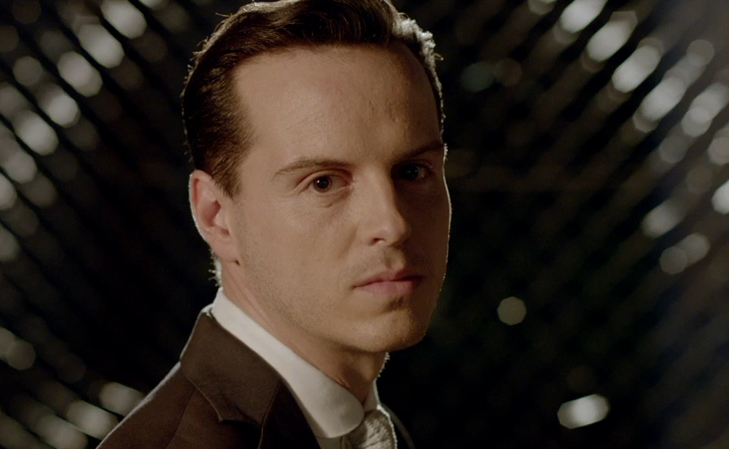 2. The fourth season of Sherlock will be "myopically dark", according to actor Cumberbatch. "You're talking about the end of the universe darkness. You can't see in front of you and would walk into everything dark," the actor told Collider with regards to season 4.
Co-creator Steven Moffat added, "It's the same show. Hopefully, there are lots of laughs and lots of great personal stuff, but it is explicitly a darker season. You'll have to wait and see."
3. Actor Jones will be "the darkest villain we've had," Moffat said. "This guy is the purest evil. Sherlock is actually appalled by him. He's the most evil villain we've had. I don't think that when you see it, you will disagree. He's horrific," added the creator.
Co-creator Mark Gatiss also described Jones as a complex shaded character. "Toby is doing something very interesting. She's an avuncular, funny seeming man with terrible teeth. We've given him terrible teeth, which are symbolic of the rot inside him. It's a great complex, shaded character. You're not quite sure what the relationship is with him," he explained.
4. Amanda Abbington, who plays Mary – Watson's wife – revealed that her character will be getting her hands dirty again. When asked about the script of season 4, Abbington teased that she cried a bit while reading it but added, "Yeah, but that's juxtaposed with humor, as it should be because all great should have comedy in it as well, because that's life."
"She lives up to her name," she stressed.
5. All the stories in Sherlock season 4 will be based on Arthur Conan Doyle's books. According to Moffat, "All three stories are based, as usual, to a greater or lesser extent, on Doyle's originals, but you have to work out which bits."
Sherlock will return with season 4 in 2017.