Police and comedy are not two things that usually go hand in hand. Enforcing rules and regulations makes officers somewhat unpopular with the general public and gives them the reputation of being 'humourless'.
Members of the Iowa State University Police force have challenged this misconception with a series of tweets that have the internet cracking up.
Their response on Twitter to one person's rather disgusting culinary creation is just one example of how to win the public's hearts and minds.
They wrote user Chris Jorgensen was "under arrest" after he uploaded an image of a unpalatable Pop Tart and cheese sandwich. Clearly the officers disagreed with his original caption, which stated: "You ain't from Iowa if you never had one of these."
It has been retweeted over 150,000 times since Monday (October 13) and shows that the law has a funny bone too. Their account is littered with some other top comedy takes:
Here are just some other examples of coppers going above and beyond to entertain the public on social media.
Lost and found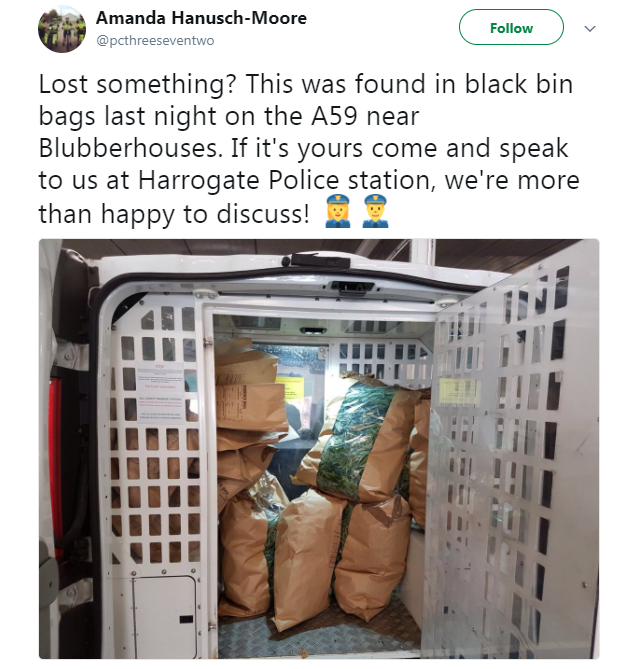 After discovering seven bin bags full of cannabis at a roadside, officers with North Yorkshire Police decided to launch a lost and found with a difference. They tweeted:
"This was found in black bin bags last night on the A59 near Blubberhouses. If it's yours come and speak to us at Harrogate Police station, we're more than happy to discuss!"
So far no one has come forward claiming the illicit items.
Manchester Police's fantastically droll Twitter account
Greater Manchester Police have gained a respectable Twitter following thanks to their account of what it's like to police their city's streets, with often hilarious results.
If you can't beat them, join them
Officers at Brighton and Hove police looked a bit sheepish tweeting this selfie as they waited for fire brigade to rescue them from a broken lift.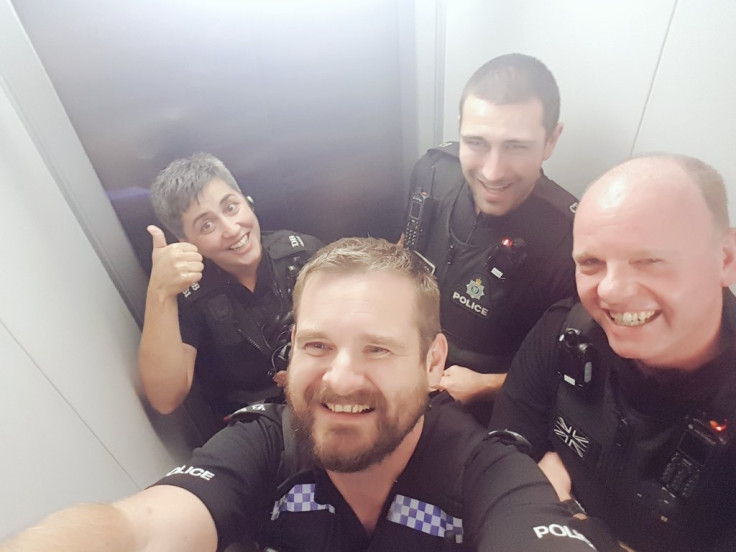 To catch a stoner
Police in Wyoming, Minnesota came up with an ingenious way to catch stoners looking for a toke on 4/20 – the day of the year cannabis smokers make an extra effort to light up.
Challenge accepted
When someone taunted Redford Township police on their own Facebook page, officers decided they weren't going to take it lying down. The accepted the criminal's offer of free donuts if they gained over 1,000 shares on their next post.
Amazingly the criminal was a man of his word and gave the officers the donuts as he turned himself in the following week.