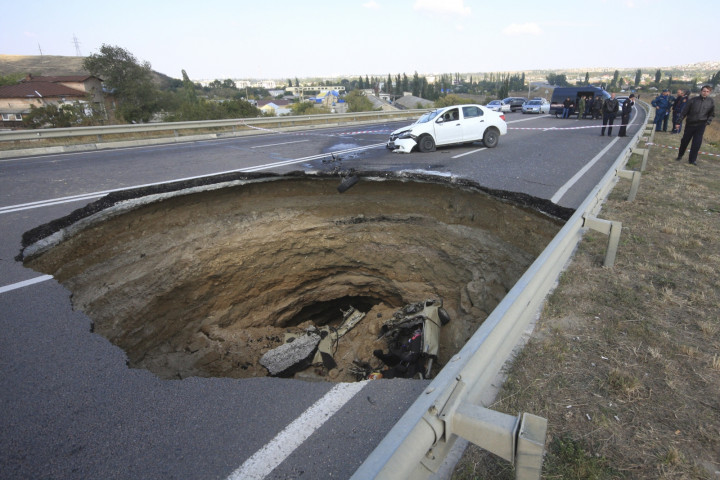 Six members of one family - including three-year-old twins - died instantly when a vast sinkhole opened up in the motorway and swallowed their car in Crimea. Two other children aged 12 and 12 months survived.
It is believed the car was driving between the Crimean capital Simferopol and a village called Nikolaevka in the disputed region, which recently voted to leave Ukraine and join Russia.
Suddenly a massive hole opened up in the ground, ripping away power-lines and reportedly casting the road into darkness. The car's driver, Ibrail Eskandarov, 34, frantically applied his brakes but had no time to avoid the 26-feet wide hole, rescuers said. The car fell 20 metres and smashed into the bottom.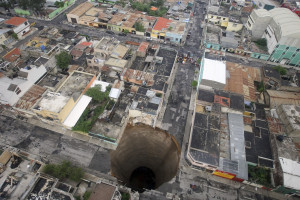 Eskandarov was killed instantly along with wife Eskandarova, 33, their 16-year-old daughter Aliye, and three-year-old twins Muslim and Asan.
Family friend Salimova Asiye, 37, also died, but her children Levida, 12, and Serim, 12 months, were saved by rescuers and rushed to hospital. Serim is reported to be in a coma and the girl is also seriously hurt. Doctors said the six who died had "received injuries incompatible with life."
"We had 43 rescue staff at the scene with 16 vehicles involved in the rescue effort," said rescue workers' spokesman Leonti Kirillov. "We managed to save a boy child and a 12-year-old girl. The boy has a serious head injury and is still in a coma, and the girl also has multiple fractures. Both are in intensive care."
The reason why the hole suddenly appeared is being investigated.
The tragedy is the latest and deadliest incident involving sinkholes, which have been reported across the world from Siberia to Chicago. In 2013 in Tampa 37-year-old Jeff Bush was sleeping in his home when a sinkhole opened up and swallowed his bed. His body was never found.