Britain is set to mark the 10<sup>th anniversary of the 7/7 London bombings which killed 52 people when the UK witnessed its first major Islamist attack.
Senior political figures, relatives and survivors of the attack are to gather at the bombing sites to commemorate the anniversary.
Hundreds of people were injured in the attack, which targeted the London public transport during the morning rush hour, when four bombs went off on 7 July, 2005. Four young suicide bombers, linked to al-Qaeda, carried out the attack.
St Paul's Cathedral will hold a special memorial service which will be attended by Prime Minister David Cameron, London Mayor Boris Johnson and the Duke of York.
"Today the country comes together to remember the victims of one of the deadliest terrorist atrocities on mainland Britain," said Cameron in a statement.
"Ten years on from the 7/7 London attacks, the threat from terrorism continues to be as real as it is deadly – the murder of 30 innocent Britons whilst holidaying in Tunisia is a brutal reminder of that fact. But we will never be cowed by terrorism."
Public transport will come to a halt to observe a minute's silence at 11:00 BST and bus drivers will park their vehicles if they cannot safely halt.
Security has been beefed up at the memorial in the wake of the Tunisian massacre, which claimed the lives of several British holidaymakers.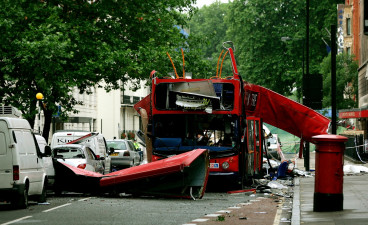 Cameron added: "We will keep on doing all that we can to keep the British public safe, protecting vulnerable young minds from others' extremist beliefs and promoting the shared values of tolerance, love and respect that make Britain so great."
A wreath-laying ceremony will begin at the permanent memorial in Hyde Park at 08:50 BST. Another service featuring music and recitals will also be held in the afternoon in which the Duke of Cambridge will participate.
Read more: 7/7 London Bombings 10 Years On commemorative magazine