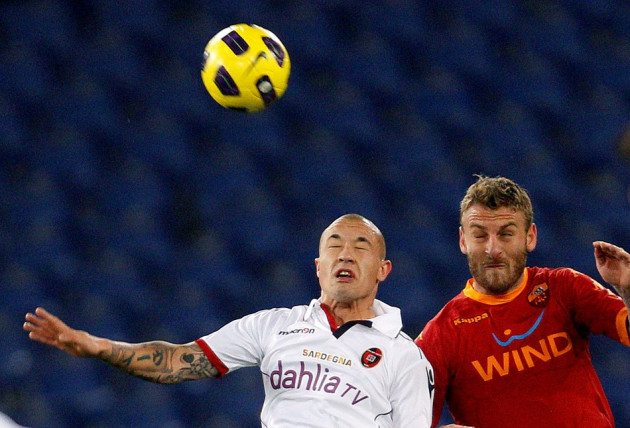 The pick of today's Premier League, Serie A, La Liga and Bundesliga football transfer rumours, news and gossip for 9 September, 2011. All the latest transfer rumours surrounding Manchester United, Chelsea, Arsenal, Liverpool, Tottenham Hotspur, Manchester City, Bayern Munich, AC Milan, Inter Milan, Juventus, Roma, Barcelona and Real Madrid will be covered here.
The transfer window is shut, and won't open again until January. Bearing this in mind, the general consensus in this morning's papers is: why bother? That said there are a smattering of long-term rumours to cast your eyes over today.
Arsenal look set to miss out on Fiorentina midfielder Riccardo Montolivo, after his agent, Giovanni Branchini, confirmed that he sees his long-term future at the Italian club.
"There are clubs interested in the player, this is normal," he told talkSPORT. "His contract in Italy ends in June and we do not have any plans to meet with the Fiorentina management. "But we are calm and dialogue is not broken with the club. Throughout the year we will find a solution that is good for both parties."
The AS Roma midfielder Daniele de Rossi nearly joined Manchester City in the summer. He still may, come January.
City boss Roberto Mancini has not given up hope of signing Fiorentina midfielder Alessio Cerci either, even though he really should having failed to sign him this summer.
Tottenham will probably sign former captain David Beckham when his LA Galaxy contract expires in November. Get used to this one.
Liverpool and AC Milan want to sign Ajax midfielder Christian Eriksen. Kenny Dalglish is also interested in Crystal Palace striker Wilfried Zaha. Neither of those will happen.
Barcelona have sent officials to Brazil to finalise the January transfer of Santos striker Neymar.
And - you're still there? - Stoke defender Danny Pugh has been offered the chance to resurrect his career at Leeds, after being left out of Tony Pulis's 25-man Premier League squad.
Finally, Sir Alex Ferguson has said Wesley Sneijder is not the man to replace Paul Scholes, effectively ruling out a January move for the Dutchman. "Sneijder is not the ideal replacement for Scholes," Ferguson said. "He's a fantastic player but he was not who we were looking for to replace Scholes. Only Xavi and Iniesta are comparable to Scholes."