Former Arsenal striker and Wales international John Hartson believes Aaron Ramsey should leave the club on loan to help rediscover his best form.
Ramsey became one of five British players to sign new contracts in December, but his form has been undermined by constantly being played away from his favoured central midfield role, a position this season dominated by the likes of Santi Cazorla and Jack Wilshere.
In 25 appearances this season, the Welsh midfield has completed 90 minutes on just six occasions and Hartson believes a loan spell could assist him regaining some form.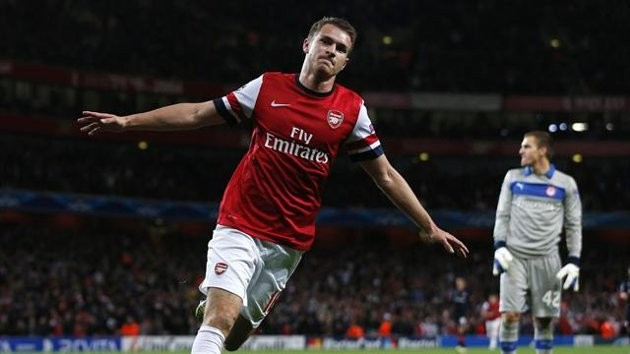 "I just think he [Ramsey] needs that run of games," said Hartson.
"Maybe if he did go out on loan [he'd get that], because he doesn't seem to start many games at Arsenal now and when he does start he's brought off and he doesn't look happy.
"I'm sure Arsene Wenger knows he's a top-drawer player, because he wouldn't have given him a new deal otherwise," he added.
"With Arsenal you look at their midfield. [Mikel] Arteta, Wilshere, [Theo] Walcott, Cazorla, [Alex] Oxlade-Chamberlain, they've got some really, really gifted players in the midfield.
"So it's up to Aaron to put in the performances week-in, week-out and on the training ground. I just don't think he's quite hit the heights in terms of where he was before he got injured, but he will, I'm sure he will.
"He needs to play with a smile on his face, get back to enjoying football. It just seems as if there's something holding him back at the minute."
After returning from a double leg fracture in 2010, Ramsey had loan spells at Nottingham Forest and Cardiff City before becoming a regular in the Arsenal first team last season following the sale of then captain Cesc Fabregas.
Due to the summer addition of Cazorla, the return to full fitness of Wilshere as well as the presence of Oxlade-Chamberlain and Arteta, the 22 year old has been deployed in a wider role this season, often struggling to make a sufficient impact.
Hartson has urged Gunners boss Arsene Wenger to play Ramsey, whose injury fears are well behind him, in his regular position.
"I don't want to keep going on about it because I'm sure he [Ramsey] is fed up of people talking about his injury," Hartson added.
"He's been back now I think it's about a year-and-a-half fit again and it's just where his best position is because for us with Wales he's central midfield.
"I don't think playing on the left, wide left, is his position. [Against Swansea on Sunday] he looked lost at times.
"He did some very good things in the game but obviously Arsene Wenger didn't think it was his greatest performance because he took him off."