NFL star Aaron Rodgers and Olivia Munn remain silent over break-up: 'Did you… actually split?'
Rodgers' family were sceptical of the NFL star's relationship with the X-Men actress.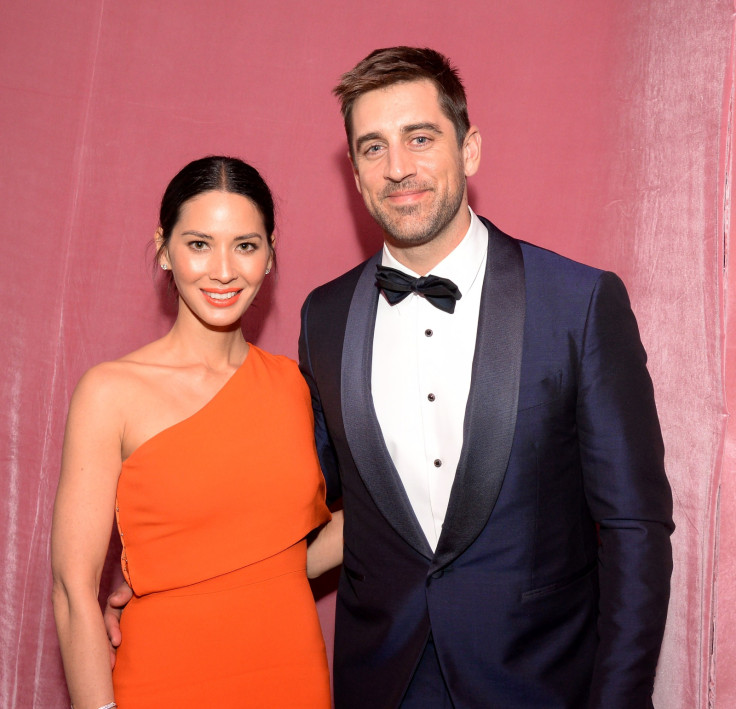 Amid a bitter family feud, Green Bay Packers quarterback Aaron Rodgers has reportedly called it quits from TV star Olivia Munn. While the timing of their split is causing fans to speculate whether Rodgers' family had any role in the break-up, the NFL star and Munn have chosen to remain silent and have provided no explanation.
Neither Aaron nor the Newsroom actress have confirmed whether or not their much-public romance is actually over.
In fact, the couple have remained tight-lipped on social media as well about their personal life.
"Did you and Aaron actually split please confirm!!!" one fan of the 36-year-old actress wrote on a Instagram post shared almost a week ago. While another user sceptically wrote: "Most ppl prob know why u dropped him. The truth will come out [sic]."
"Cant believe you guys broke up?!? my fav couple, I'll keep supporting you both separately," another fan commented.
News of their split surfaced on 7 April, with a People magazine source claiming that the couple "amicably ended their relationship of three years". The source further adds that the couple "remains close friends and wishes nothing but the best for each other moving forward".
Nonetheless, reports suggest that Munn may have started off on the wrong foot when it came to her ex-boyfriend's family. There is believed to be a rift with regards to Rodgers drifting from his folks after meeting the X-Men actress.
"When he got together with Olivia Munn, his family told him they didn't trust her and thought she wasn't with him for the right reasons. That made him furious, and he ended up choosing Olivia over his family," Us Weekly had reported.
The drama intensified after Aaron's younger brother Jordan Rodgers made his reality TV appearance on The Bachelorette and publicly spoke about being estranged from the footballer. Following Jordan's revelations, their father Ed went on to say: "Fame can change you," suggesting that there was indeed a rift within the family.
Despite all the previous rumours, the athlete-actress duo continued to flaunt their romance and sparked engagement talks in January, when Munn sported a giant rock on her ring finger.
Further, a source told Hollywood Life that Munn was "heart-broken", but was hoping "they may be able to work things out".
© Copyright IBTimes 2023. All rights reserved.