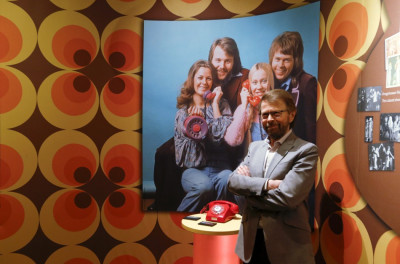 Three of the four former members of Abba attended the official opening of a museum dedicated to their music in Stockholm.
Björn Ulvaeus, Benny Andersson and Anni-Frid Lyngstad took a tour of Abba The Museum in Djurgarden.
Fourth member Agnetha Fältskog could not attend as she was promoting her latest solo album.
The exhibition, curated by the band's former stylist Ingmarie Halling, offers an interactive journey of Abba's success and visitors are offered the opportunity to be part of the band by getting on stage with other members.
They are also able to try on some of the band's flamboyant costumes and listen to the four members telling their own personal stories about their time in Abba.
Ulvaeus said: "The new museum will give a complete picture of the band, the music and the incredible success we experienced in the 70s and 80s, something that we haven't been able to present until now.
"It will be like an experience-based music documentary that invites the visitor backstage as well as on and in front of the stage."
Another attraction is a self-playing piano that is linked up to Andersson's studio, so some visitors will be able to hear the pianist playing live.
Halling said: "I was there on the world tours and saw the work backstage as well as in front of it. There was hard work and an ordinary everyday life behind the success.
"We hope that we have created both a documentary and a spectacular music exhibition. We have a solid archive, to say the least; everything has been saved."
Other attractions of the museum include the song writing cottage on the island of Viggsö, Bjorn and Agnetha's kitchen, Owe Sandstrom's tailor studio and the Polar studio.
Adult tickets to the exhibition cost €23 (£19.50).