A man accused of being a key recruiter for terror group Isis has gone on trial in Germany.
Abu Walaa, dubbed as the "faceless preacher" as he only showed his back in propaganda videos, is regarded as the Isis leader in Germany. The 33-year-old Iraqi moved to the city of Hildesheim, Lower Saxony, in 2001. He was arrested last year.
Walaa, whose full name is Ahmad Abdulaziz Abdullah A, appeared at a court in the northern city of Cell on Tuesday (26 September) alongside four other co-defendants, accused of supporting Isis. They are a Turkish national, a German, a German-Serbian and a Cameroonian, all aged between 27 and 51.
The five are thought to have created a "pan-regional Salafist-jihadist network", of which Walaa took a leading role "as the representative of the so-called Islamic State in Germany" with the aim "to send people to Isis in Syria or Iraq," prosecutors said, according to AFP.
They all face up to 10 years in prison, if found guilty.
The trial, expected to last until early 2018, will take place under heavy security.
Recruitment and radicalisation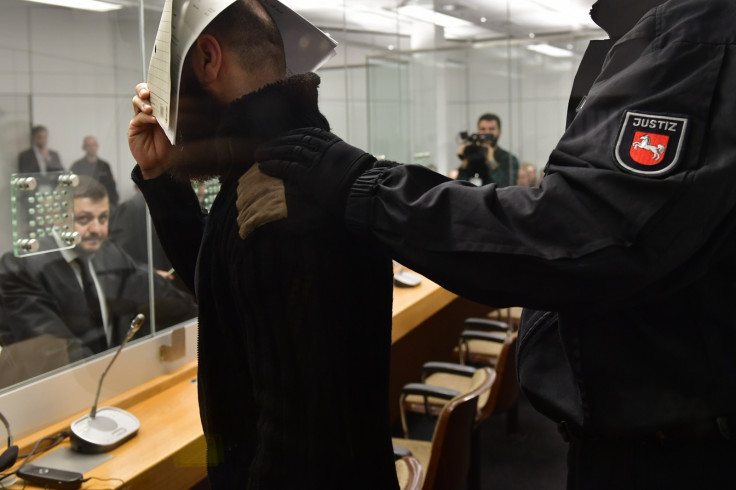 Walaa had preached in a German-speaking DIK mosque until its closure in April 2017.
The preacher is suspected of having radicalised Anis Amri, who killed at least 12 people and injured another 48 during a truck attack on a crowded Christmas market in Berlin in December 2016.
Walaa has also been accused of having recruited a man, identified as Anil O, who joined Isis in Syria but later returned to Germany as he had abandoned the group's ideology.
Upon his arrest in September 2016, Anil O. is thought to have turned on Walla and provided authorities with crucial information in order to obtain a reduced sentence, the Spiegel Online said.
According to Spiegel, he turned on Walaa and provided crucial information in return for a reduced sentence.
Walaa's lawyer Peter Krieger has dismissed the Anil O's testimony as "lies".
Walaa's network also included Hasan C., who was allegedly in contact with the people who bombed a Sikh temple in the city of Essen in April, Der Spielegel Online said.
Germany's security services estimate there are around 10,300 radical Islamists in the country, AFP said. The number has almost tripled since 2011.
"Isis and Al-Qaeda have mastered the rhetoric of using 'the plight of Muslims is the plight of Islam' or better still, 'an attack on Muslims anywhere is a direct attack on the religion of Islam everywhere'," counter-terrorism expert David Otto told IBTimes UK.
"The increase in hybrid recruitment (online and offline) in Europe is made easier not just by powerful extremist preachers exploiting the youthfulness and naivety of young people, but by the involvement of most European States abroad fighting against Isis.
"As long as European states are seen to directly support and engage in fighting in 'Muslim countries', it will be difficult to eliminate vulnerabilities to radicalisation that leads to violent extremism," Otto concluded.