The man charged with shooting 82 people at a Batman movie in a Colorado town watched calmly, tethered to the floor by a harness beneath his blue pin-striped shirt, as the prosecution and defence presented vastly different profiles of James Holmes
Holmes, 27, faces 165 criminal counts, including murder and attempted murder, in one of the deadliest mass shootings in American history. Twelve people died when he opened fire with an AR-15 automatic rifle at a July 2012 midnight showing of The Dark Knight Rises in the Denver suburb of Aurora. Holmes was packing several other guns, and a load of ammo, and was wearing a gas mask and body armour, authorities say.
He has admitted to the shootings but is pleading not guilty by reason of insanity. His lawyers are arguing that he suffers from schizophrenia which compelled him to kill.
But Arapahoe County District Attorney George Brauchler said that while Holmes might have suffered from social anxiety, he knew exactly what he was doing, reports NBC.
"On a cool July night a few years ago 400 people filed in to a box-like theater to be entertained, and one person came there to slaughter them," Brauchler told the jury in Centennial.
"The man that came there that night, covered head to toe in armour to protect him from any injury, a man who brought with him four weapons and hundreds of rounds of ammunition, he's in the courtroom with us today."
Holmes listened quietly, his brown hair neatly trimmed, wearing glasses. It was in stark contrast to his initial court appearance after the shootings when he had a dazed look and a bright shock of orange hair, like the Joker from Batman.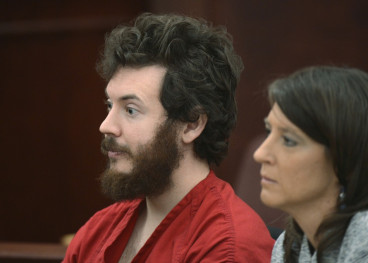 Defence attorney Daniel King characterized Holmes as a victim of mental disease. "When James Holmes stepped into that theater he was insane," said King. "His mind had been overcome by a disease of the brain that had plagued him and pursued him for years. In the end, when florid psychosis erupted in 2012, he lost that struggle."
Shortly before the shooting, Holmes was a doctoral student in neuroscience at the University of Colorado. Early friends and teachers described the California-born and bred Holmes as a problem-free child who was strong in academics and sports. But his mental health took a dark turn while he was at university. Months before the movie attack, he told a classmate he wanted to kill people, according to court documents. His university psychiatrist, troubled by his twisted fantasies, reached out to the school administration to do a threat assessment of Holmes, but nothing happened before the shooting.
The attack reignited the debate about gun control in America. Despite Holmes' mental state, largely known in the university community, he was able to purchase several guns and some 6,000 rounds of ammunition.