Blank Space singer Taylor Swift received a touching tribute from her "proud" mother at the Academy of Country Music Awards.
Just days after her cancer diagnosis was revealed, Andrea Swift presented her 25-year-old daughter with the milestone award at the ACMs on 19 April.
Praising Swift for her incredible achievements, Andrea told the audience: "I've watched this milestone artist from the time she was a tangled-hair little girl... Full of imagination and creativity until right now when she prepares for her next world tour.
"And ever since then, her favourite thing in the world to do has been to write a song, tell a story, play a guitar or a piano, and I've seen those things carry her through every emotion, every experience in her life, good or bad."
The Shake It Off singer has built a global career from writing songs about her failed relationships with famous men, including One Direction's Harry Styles and singer John Mayer.
Recalling an anecdote of her daughter's choice of inspiration, Andrea told the crowd: "Like the time she was 17-years-old and her dad and I strongly disapproved of a certain young man - and rightfully so.
"But she was real mad, she went to her room, closed the door and she came out about an hour later with a song called Love Story."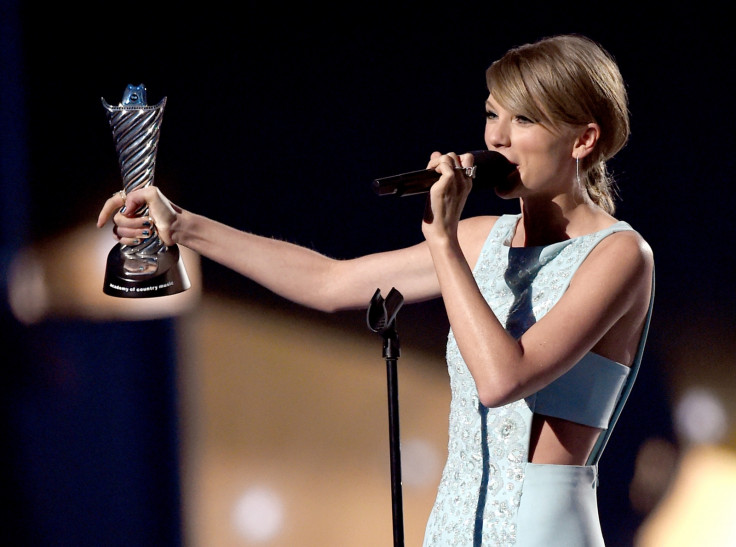 Becoming overwhelmed with emotion, Andrea later added: "Like many of you tonight with children of your own, I am a very proud mum. So I'd like to thank the ACMs for honouring her in this way but I'd also like to thank the entire music community for taking such good care of her.
"And to the fans, I know you love her as I love her, and for that, I thank you eternally."
The country singer and her mother are known to have a close relationship and earlier in April, the I Knew You Were Trouble hitmaker announced that her mother has been diagnosed with cancer.
Writing an emotional Tumblr post, Swift said: "I'm writing to you with an update I wish I wasn't giving you, but it's important and I'm used to sharing important events in my life with you ... This is something my family and I thought you should know about now.
"The results came in, and I'm saddened to tell you that my mum has been diagnosed with cancer. I'd like to keep the details of her condition and treatment plans private, but she wanted you to know," later adding: "She's got an important battle to fight."
Watch Taylor Swift's mother deliver her speech below: